Palletizing with Universal Robots (UR):
All you need to know
This post will explore and explain what you can expect from a cobot (collaborative robot) and everything you need to know about palletizing with Universal Robots.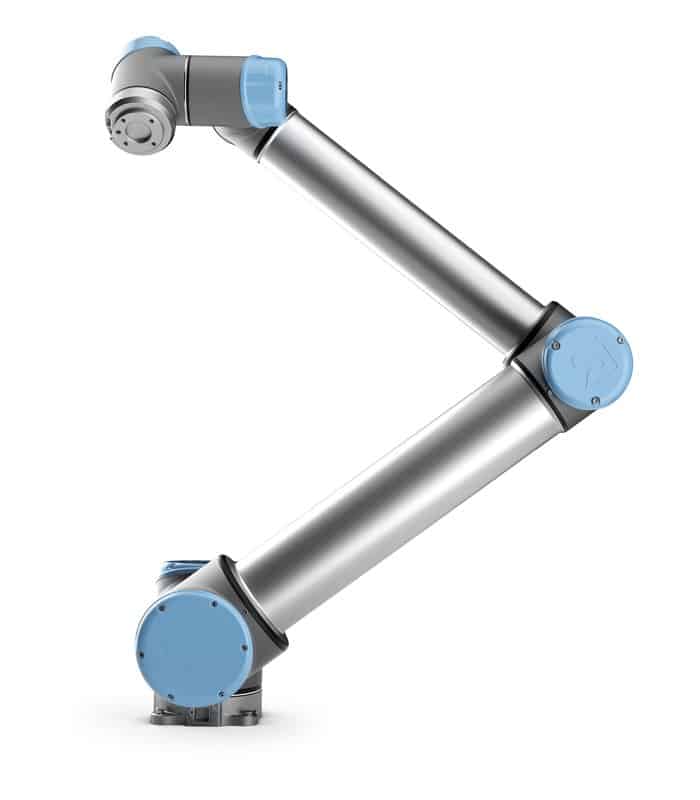 Cobots could be your future colleague and by the end of the article you might want a palletizing solution from Universal Robots to be your next colleague.
This article will specifically focus on palletizing with collaborative robots from Universal Robots. For more general information about cobot palletizing, read this article:
Palletizing with Universal Robots
Universal Robots is a danish company based in the robotic cluster of Odense and was the company that introduced cobots to the market. They have since then developed to be the biggest manufacturer of cobots with over 50 000 cobots sold.
Cobots from all brands can do palletizing, but in this article we will focus specifically on UR. The reason for this is that UR produce cobots that are highly suitable for palletizing tasks, as well as palletizing is our area of expertise.
Cobot palletizing
In a collaborative workforce, robots work alongside humans rather than replacing them. This is how cobots work. Applying them in the workforce will capture the best qualities of humans and robots.
A cobot palletizing solution places boxes from the assembly line onto a pallet. It does so with accuracy and efficiency. With a cobot palletizer in your workforce, you will work along side an easy to use flexible solution. A solution that is suitable for many of your different palletizing needs.
The complete solution consists of three main components. The cobot itself, the software, and the hardware such as a gripper, sensor, base frame or a lifting column. As you can imagine, the opportunity to customize is huge. This also help to make the solution able to fit into a wide range of different palletizing projects.
Pally software in Universal Robots
Rocketfarm have developed Pally, the market leading palletizing software for Universal Robots. Our software allows you to reach a higher case-per-minute and increase safety. It is also very easy to use and install which adds direct value to our costumers.
Benefits with a Universal Robots palletizing solution
Solve manufacturing problems
You could be fearing negative consequences with robots taking over jobs. But in reality these solutions can make your job better. Because workplace related injuries are often connected to heavy lifting and repetitive tasks. Instead of doing this on your own, the palletizing cobots from Universal Robots can be of service. Furthermore, aiding the workforce in the palletizing process.
Struggling with finding labor?
Struggling with finding labor to manufacturing operations is becoming more of a problem. A cobot can solve your issues in a cost-effective and safe manner. A cobot palletizing solution delivers the same precision every hour of the day and every day of the week.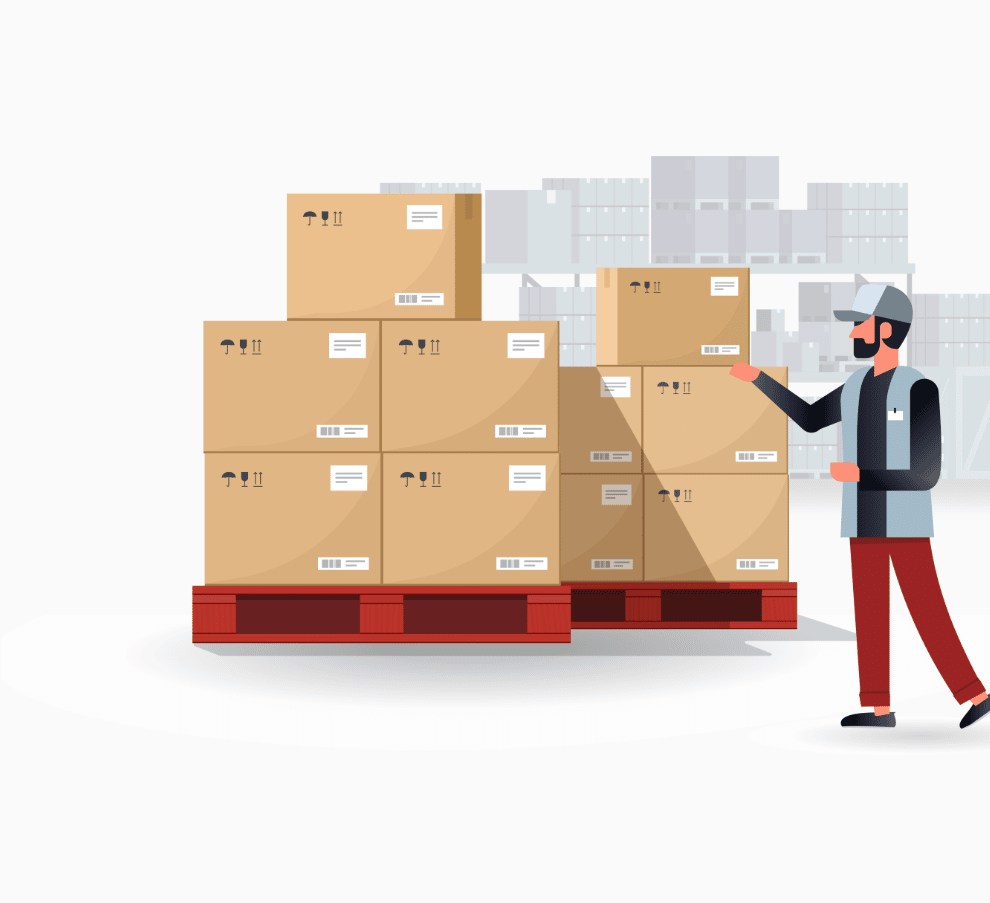 Return on investment
You may think an investment of a cobot must be expensive and only applicable for big firms. But many businesses show a positive return on investment within the first year. A UR cobot palletizing solution have at the smallest, a lifespan of about 35 000 hours. After roughly 3000 hours you can expect a positive return on investment. And Pally can prolong the lifespan of the cobot which increases the value of the investment.
Easy and flexible
Other benefits include easy programming. This allows you to give it desired work-instructions without having to be a robot expert. The setup time is short and they are easy to re-deploy if you should want to move it in a different process. Using Pally in this regard makes these changes a lot simpler.
For learning how to deploy and re-program UR robots, it is recommendable to spend time in the UR Academy and have a UR Super User in the company.
Reliability
There are costs associated with finding substitutes, training them and keeping them. These are not very tangible costs to asses, even tho they are very relevant for your business. But the UR cobot is a loyal worker. It is best suited for repetitive and heavy task that none of your employees really wants to do. Once the cobot is set up, it will keep doing the work everyday.
"They told us that customers buy robots thinking to become more productive, but then discover that the biggest change is greater quality and reliability in their operations."
Statement from manufacturer of welding robots
Showing ambitions
By investing in automation, you show the world that you have invested in your production. But also that you have invested in keeping your production in house. This should have a positive correlation to your hiring processes. Now, applicants can see that you have committed and are on a journey of automation. This is more attractive than standing besides a century old machine.
Two different cobots suited for palletizing
Universal robots have two different types of cobots that suited for palletizing. You should continue reading if you are curious about which one suits your business.
Palletizing with UR10e
The UR10e is the best-selling cobot from Universal Robots. This cobot lifts up to 12,5 kg, which gives you a high performance and efficient cobot. It has a reach of 1300 mm and the payload is enough to allow multipick. Rocketfarm have an installation that lifts up to 50 cases-per-minute (CPM). This is a special case. In most use cases, 30 CPM is the fastest. (The high CPM attained through multipick is only possible with our Pally software). Additionally, the UR10e has a footprint of only Ø 190 mm.
The UR10e is a best-selling cobot. It allows you to boost productivity and increase product quality. Also, it unties your workforce from repetitive and heavy tasks. It's collaborative and safe, and the UR10e offers one of the fastest payback times in the industry. Furthermore, It can also do various tasks due to it's combination of payload and reach. This makes the UR10e a great for palletizing.
Palletizing with UR16e
The UR16e is known as The collaborative industrial robot. It has a high payload capacity of an impressive 16 kg. Similarly to the UR10e it has a small footprint of only ø 190 mm as well as being collaborative and safe. The high payload makes the cobot very flexible. This is allowing you to stay ahead of competition and be ready for changes in product line. It can lift many parts in a single pick and the cobot has a 360° reach of 900 mm.
The features of the UR16e makes it an ideal part of a workforce. It can for example be used in packaging, heavy machine tending as well as palletizing. Like the UR10, the UR16e offers one of the fastest payback times in the industry. Essentially, this universal robot is ideal for heavy duty work where reach is not an issue.
Palletizing with UR20
The UR20 is the newest cobot from Universal Robots. It will be available for delivery around Q2 2023. The UR20 is by large a palletizing cobot by design.
UR states it is their first cobot in the next generation of industrials cobots. It has a high payload (20kg) and a long reach (1750mm) which makes it very suited for palletizing projects. It's footprint is still small (ø 245mm) and it can be move up to 65% faster than other UR cobots. All in all it's probably the most suited cobot for palletizing from Universal Robots.
Learn everything about palletizing with UR20 in our in-depth analysis.
Which one to choose?
The difference between cobots is less varied than other types of industrial robots. But there are some differences between the UR10e and the UR16e to keep in mind when making a choice.
Payload (UR10e: 12,5 kg vs UR16e: 16 kg vs UR20: 20 kg)
Reach (UR10e: 1300 mm vs UR16e: 900 mm vs UR20: 1750 mm) (Very relevant for palletizing)
Footprint (UR10e: ø 190 mm vs UR16e: ø 190 mm vs UR20: ø 245 mm)
Weight (UR10e: 33,5 kg vs UR16e: 33,1 kg vs UR20: 64 kg)
Let MyRobot.cloud Fast Track help you
We recommend that you don't make the choice on your own. Let the Fast Track help you find the available cobot palletizing solution in your region. Visit our cobot palletizing search engine and insert your product specifications to get a simulation and a project report within one hour.
The simulation and project report will serve as a upfront verification, meaning that your specific palletizing project will work when installed at your facility.
Why you should choose a Pally palletizing solution
The core in a Pally palletizing solution is our software Pally. It is the leading palletizing software for Universal Robots. We are UR+ certified software developer and recommended for palletizing by Universal Robots.
Easy to install and easy to use
There is a lot of benefits that comes with using the Pally software in a palletizing solution. Some of them can be its quick and easy installation and a user-friendly interface. This makes it flexible in the sense of being adaptable to changes in production. And making these changes requires no downtime. Pally also includes smart features that increase performance and its lifespan.
3 steps from pattern to robot
Designing and changing patterns have never been easier. In out web-based Pallet Builder, you design your own pallet. You can include shim paper, interlocking layers or use recommended patterns. After building your pallet, download the .JSON file and upload it to your robot. Then it will palletize with the new pattern without impacting the production line.
Optimized for longevity and performance
With optimized path planning and multi pick, it is possible to palletize up to 60 CPM. But, this depends on the pattern, product and payload. Together with Universal Robots, Pally can also palletize higher pallets by using lifting columns. This makes every pallet count.
Learn more about Pally Palletizing Solution.
Palletizing with a cobot from Universal Robots
Palletizing is an obvious task for automation. It is dirty, dull and dangerous. By automating your palletizing you can free your employees to more valuable assignments and get a positive return on investment really quickly. If your product payload and production speed is within the range of possibility with UR cobots they are a really good option when choosing your palletizing solution.
If you want to know more about palletizing with Universal Robots please get in touch with us. We're happy to help with any questions you might have.
Sign up to our newsletter and get a FREE ebook
By signing up to our monthly newsletter, you'll get case stories, product launches and tips to automate your production line!
Additionally, you will instantly receive an ebook about implementing palletizing. For more information, please visit our newsletter subscription page.