Newsletter
Every month, the Rocketfarm Commercial Team works to deliver an informative newsletter. We strive to deliver high-quality content with detailed information about automation and cobot palletizing.
Please, contact us if you have any feedback!
Sign up for our newsletter
For case stories, product launches, tips, and tricks on how to automate your production line!
Newsletter archive
In this newsletter archive you can check out the newsletters we've sent in the past. Perhaps you want to read again a newsletter, or you are considering subscribing, but want to make sure it is the newsletter for your needs.
Remote installation of cobot palletizing solution – In just 2 hours.
Our experienced partner Kameleon Robotics in Norway, have done their first all remote installation of a Pally solution. Also the first remote installation of a Pally solution in the world. And it was done in just 2 hours.
Three cobot palletizers in action
The cobot palletizing solutions at Nortura in Sogndal is a great example of the possibilities with cobot palletizing. They have three cobot palletizers up and running. See a video of these cobot palletizers and read more in the newsletter from September.
FIPROS automate repetitive jobs – to optimize work environment
– Happier, healthier and satisfied coworkers is our top priority, says Conny Twisttmann, the CEO in FIPROS A/S.
The danish company is a contract manufacturing and packing partner for food and food ingredients. To optimize their work environment, they decided to automate repetitive jobs.
We have also shared a list of our most important pieces.
Cobot automation is for everyone, especially SME's
With modern technology, automation no longer requires a lot of time and resources – and we are working to onboard more businesses to this new era of automation with cobots.
Use the upfront verification to make a qualified decision for proceeding with your palletizing process.
Also: New Pally release
Bigger is safer when it comes to palletizing
Read our in-depth analysis, and learn why the combination of payload and reach makes the UR20 well designed for palletizing.
They call it the next generation of industrial cobots. UR20 will not only bring a new level of performance, but will also embrace key concepts for UR as versatility, small footprints and usability.
Proud to be heavily featured in the presentation by UR+
See how and why Pally is one of the tools Susanne Nördinger, UR+ Ecosystem Manager EMEA, highlights several times in the video to accomplish their mission.
Read more about the UR20 and see the video from the seminar in the June newsletter.
The future of SMEs is bright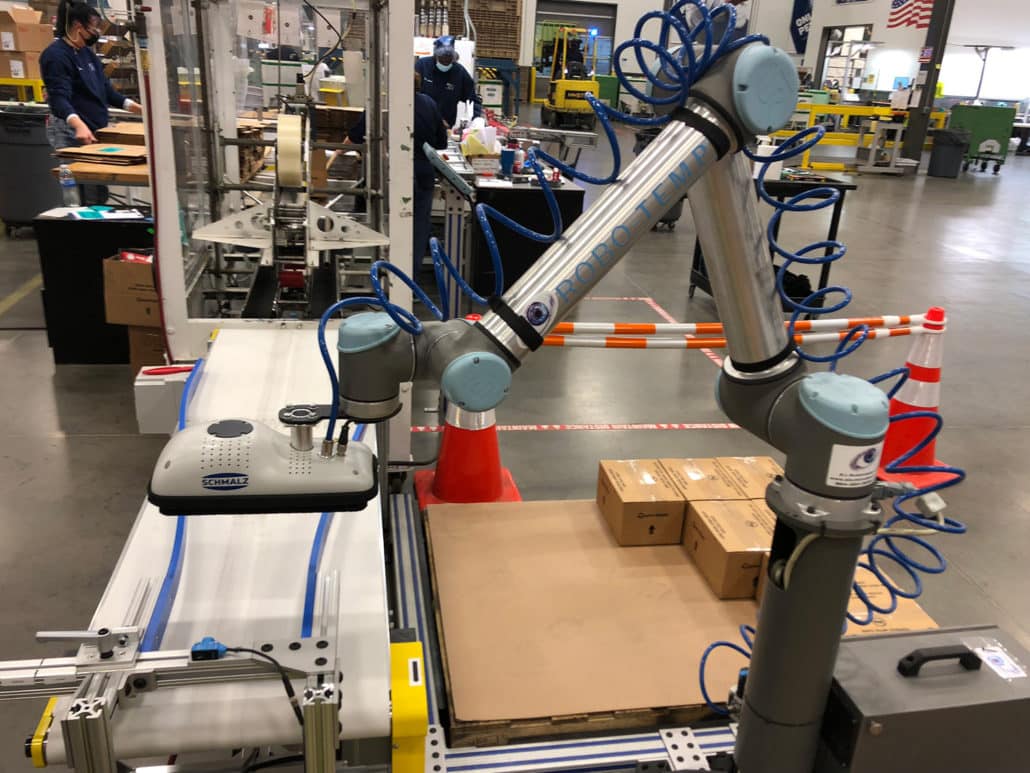 We strongly believe that collaborative robots are going to be an integral part of the future due to flexibility, the ability to work next to humans and the big potential especially within SMEs.
By using sophisticated software and capable hardware, palletizing is no longer a task for manual labor.
Read also about which trade shows we are attending.
Why a cobot should be your future colleague
Still not sure what to expect from a palletizing cobot? In a collaborative workforce, robots work alongside humans rather than as a replacement for each other.
Read about how we are yet to experience a company, where the employees are not super satisfied with our cobot palletizing solution.
Solving labour struggles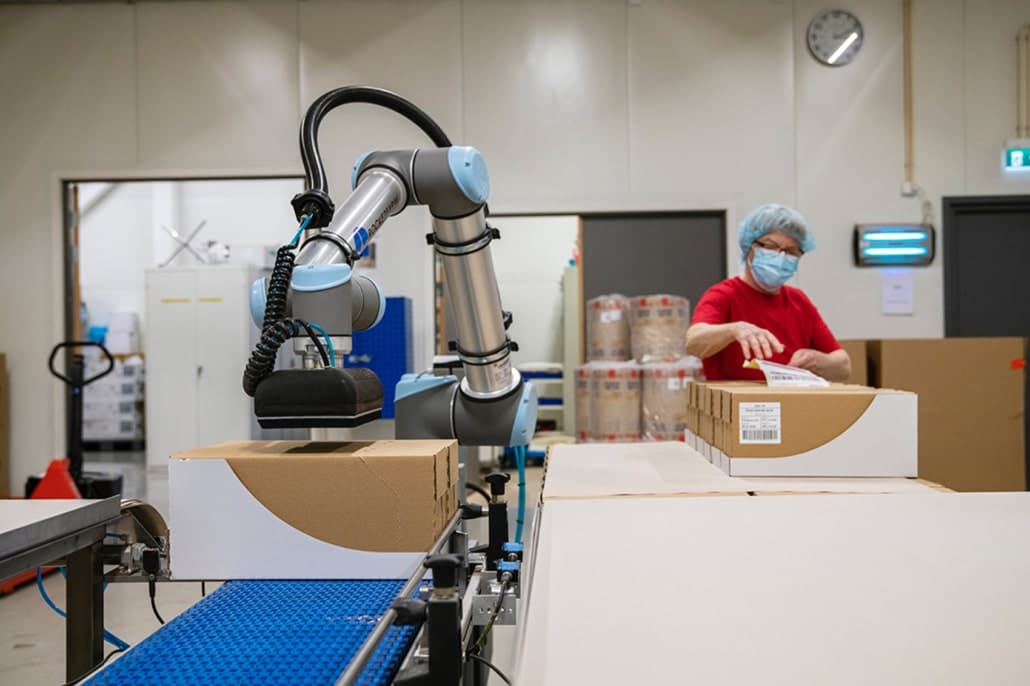 Do as TaylorMade did and rent a cobot palletizer: pay an hourly rate similar to how you would hire a temporary employee, and let labour struggles be a thing of the past. The solution was offered by our Pally Partner, A.I. Automation LLC.
Robotic automation is picking up speed
If you haven't read it already: Pally and collaborative robots fit right into the top trends of 2022 as more and more companies across traditional and modern industries are realizing the numerous advantages robotics provides for their businesses.
Prepare for automation
Do you worry about how your employees will react to the plans of collaborative automation for one or several parts of your production line? We suggest you offer clear, early and honest communication to avoid their fears and insecurities.
New and satisfied Pally customer
"MKS is a toll manufacturing company with a large variety of different packages. So far we could not use a robot to palletize these packages with the high number of pallet patterns.
Now we have just bought a Universal Robot UR10 to do this job. Rocketfarm's Pally Software is an essential help for us to bring the pallet patterns into the robot in an extremely easy way."
Explains Dr. Uwe Robben, CEO at MKS GmbH & Co. KG.
What does a robot really cost?
Why stop with the most popular case story, when we would love to inspire you with the most read blogpost of 2021. It's about the true costs of a robot – or should we choose the word savings?
Know when you can expect a positive return on investment, and know the price of saving your people from risk for strain injuries.
The UR cobots makes no mistakes
We did promise you this would be well worth a read. Let us present to you our most popular case story of 2021: The story of the UR cobots running around the clock for two years, without any sick leave, saving the employees for seven tons of lifting each day.
Future production needs a high level of flexibility and reliability.
What does a Robot cost?
As a rule of thumb: Most businesses have a positive return on investment after the first year of use! We have collected a few points that are good to keep in mind when doing the calculations for your new robot.
Want to know the possible range of palletizing with Pally?
Can our Palletizing software handle your needs? Simple overview of the possibilities of the UR10 and UR16 robots with Pally UR+ Application in terms of kilos and boxes per minute (CPM).
PALLY improved palletizing with 30% at Nortura
Our latest case story is also about our very first installations at Nortura Sogndal back in 2015. This is a story about how Pally increased the palletizing performance by 30% and allowed the palletizing solutions at Nortura to be ready for increased production capacity in the future.
How to increase CPM by 47%
Our Pally Simulation Report is a cornerstone in any Rocketfarm Simulation. We always deliver a performance report and the report shows you exactly how a given palletizing solution will perform and what settings were used to reach that performance level
Read more in the link below
How Dual Product Mode works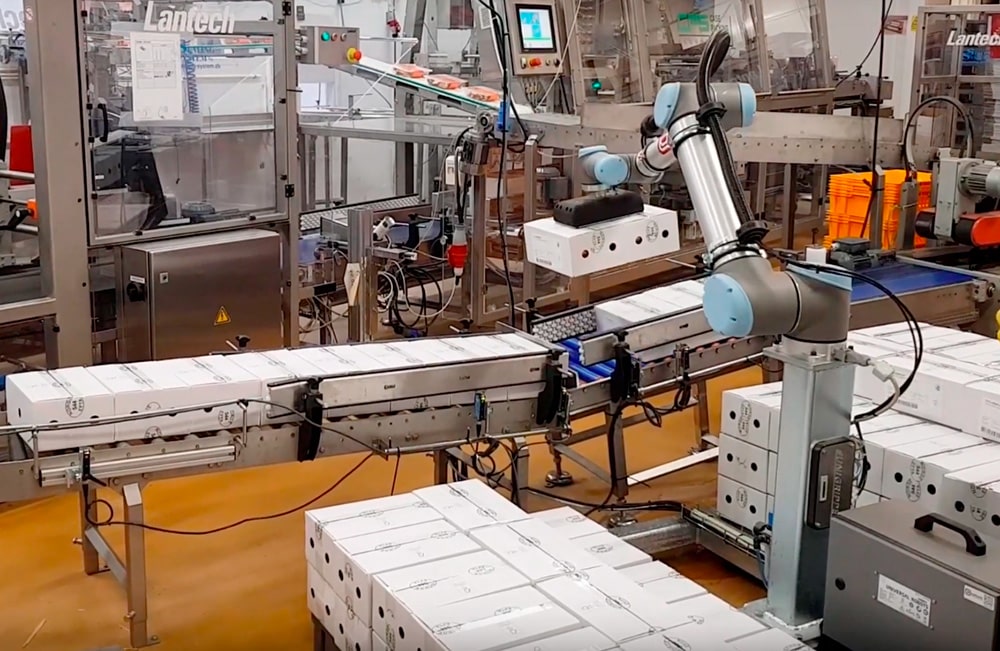 The story of how we developed Dual Product Mode, based on the requirements from Den Stolte Hane in Norway. Together with our partner Kameleon Gruppen we installed this cobot palletizer.
The power of Digital Twin Simulation
Something quite astonishing if you ask us! What you are seeing is the power that lies behind our simulations, and how it can help you to get the cobot palletizer that can handle your palletizing requirements.
Read more in the link below
PALLY is back at trade shows
Finally COVID-19 restrictions are starting to lift in many places and physical tradeshows are re-opening their doors. This also means that PALLY is again being showcased around the world.
Get your validation in 24h
"In fact, the simulation tool totally removed the need for a time-consuming and potentially costly feasibility study."
–Emil Nissfolk, Kameleon Group, Norwegian System Integrator
Read more in the link below
Success story
Pally has been successfully installed at many production facilities around the world. It's not always we get to share customer stories. This month, however, we have the pleasure to share a story from Maskinpakking AS in Norway where they have two palletizing UR Cobots.
Our Location
We're very proud of our location in Sogndal, Norway. And we couldn't be happier about showing up to work at this location everyday.
Read more and see a picture of our location in the link below