rePally
Are you looking for a reliable and efficient repalletizing solution? rePally is a 2-in-1 URCap, combining the market-leading Pally and dPally software, which has undergone extensive testing and is widely trusted.
It is a one-of-a-kind cobot software to repalletize pallets, where the URCap is developed based on our proven (and very popular) Pally Software – the fastest collaborative palletizing software available.
Repalletizing with Universal Robots
RePally is the most advanced repalletizing software and the only URCap for repalletizing on the market.
With RePally, setting up a reliable and efficient repalletizing cobot is effortless, saving you valuable money and floor space. The URCap removes the need for vision for a more affordable solution. Additionally, one robot can effectively complete the entire repalletizing process and repalletize up to 10 boxes per minute.

Depalletizing and palletizing in one software

Affordable without vision

Compatible with UR20 and UR10e
Moving boxes between varying types of pallets
You may be familiar with palletizing and depalletizing, which involves moving boxes from an assembly line to a pallet, and the task that involves moving items off a pallet. Both of these tasks can be performed manually, but it is becoming more common to automate them. Learn more about palletizing and depalletizing and how they differ here.
So – what exactly is repalletizing? Moving contents between pallets are known as repalletizing. This process involves both palletizing and depalletizing tasks and can be done manually or with a cobot's help.
You may think it's easy to repalletize with a cobot, but the reality is that it's actually quite complex. And that is exactly why you need specialized software that is able to handle that complexity.
Using Pally and dPally together and palletizing and depalletizing in the same operation, the program can operate without human intervention and continuously move boxes between pallets.
The complexity of repalletizing
When it comes to repalletizing, the use of collaborative robots (cobots) offers several advantages. However, you should also be aware of some limitations associated with cobots.
These are some of the advantages:
A single robot can efficiently handle two different tasks
Small footprint and work close to the robot
Flexible, can be moved around or easily changed to new products (high mix / low volume)
Lower price than industrial automation
No need for vision for a more affordable solution
Compatible with most hardware on the market
Ability to repalletize items to and from pallets of any size
And these are some of the disadvantages:
Lower speed
Payload limits
In summary, repalletizing with collaborative robots offers advantages such as space efficiency, flexibility, and cost-effectiveness, but considerations should be made regarding speed limitations and payload restrictions.
rePally benefits
and features
Here are some of the other benefits you'll enjoy when using rePally:
Repalletize up to 20kg, including gripper
Minimal footprint
Single or multi-grip products, speed up to 10 boxes/min (if pattern, product, and payload allow it)
Easily switch between patterns without downtime
No camera needed
Compatible with most hardware
Any pallet size
Natively integrated hardware such as grippers from Piab, Schmalz, Unigripper, and more
Unlimited heights with dynamic positioning of the Ewellix LIFTKIT and LINAK ELEVATE®
Web-based pattern generator and storage
Customize every single product on every single layer if needed
Supports shim paper, label orientation, and different products per pallet
Gripper optimization – multi-grip, type of gripper, offset bracket, etc.
Conveyor layout and pick-up positions
Repalltize up to 2m (depending on the box size and pattern)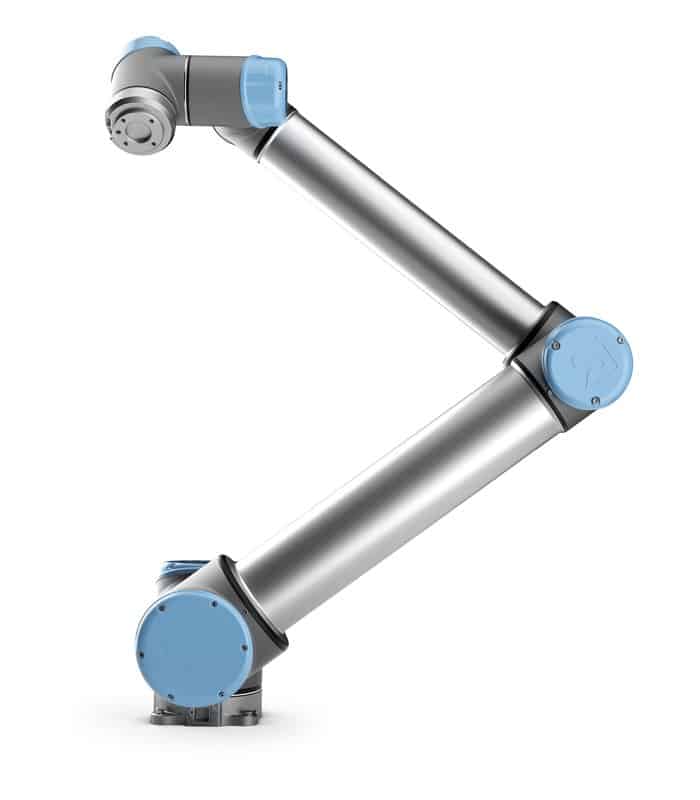 Not exactly sure what you need?
You can find much more information about cobot palletizing in our Resource Center. Or reach out to our Sales Team and schedule a demo on repalletizing with Universal Robots.
We will get back to you within 24 hours on working days.
Recommended Retail Price:
14.590 €*
Included in this price:
7 years active plan + Installation Support
*Recommended retail price. rePally is only sold through Pally partners.