MyRobot.cloud
Improve your cobot palletizing sales by delivering project
verification and quotes in hours, not weeks.



MyRobot.cloud is a palletizing robot management platform.
This is a suite of cloud-based software tools, designed to streamline and enhance all stages of the palletizing solution lifecycle. Digital twin technology is at its foundation, allowing you to create incredibly accurate "digital robots" – which are based on the exact same hardware and software stacks used by actual real-life robots.
The robot management platform is for all UR cobots, in palletizing, and the entire lifecycle of those robots worldwide. Rocketfarm's proprietary digital twin technology enables it.
We believe that all industrial processes will happen twice in the future.
In the factory and
In the digital twin representation of the factory
What will this do for you today?
Deliver project verification digitally in 1 hour
Find the best cobot palletizing solution for your exact costumer by engineering in the cloud
Deliver quotes faster and spend significantly fewer hours in your sales process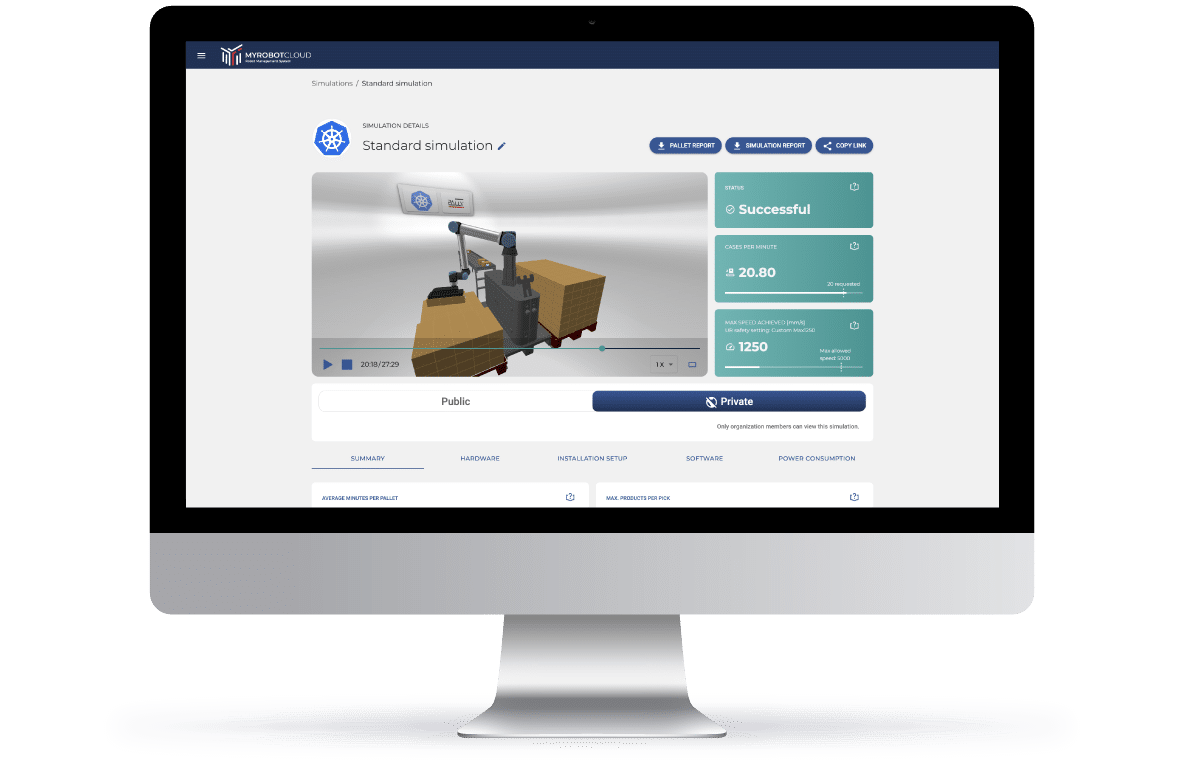 The problem
Purchasing a robot solution is complicated. Some of the reasons are because of the traditional robotics value chain, which has highly inefficient processes. They limit adoption.
The solution
The management platform MyRobot.cloud significantly improves value chain processes, increasing robot adoption.
MyRobot.cloud benefits
Functionalities with MyRobot.cloud include, but are not limited to, the following:
Be in charge of your own projects: MyRobot.cloud makes it possible for you to create a digital representation of your unique palletizing solution.
Validate the feasibility of your project: Determine feasibility before investing. This allows you to address the majority of palletizing requests without the need to custom engineer each project. Variations on your solution can also easily be created and tested simultaneously within an hour.
Digital Twin Simulations: Our simulation tool produces results that come as close to reality as possible. It creates a "digital twin" of your palletizing solution, and runs on the same software stack and is subject to the same limitations as a physical cobot. Numerous hardware and software configurations can be simulated at once. Detects any issues digitally.
Perform a digital Factory Acceptance Test (FAT) for the project, to shorten the pre-project lead time and to lower the overall cost of a palletizing solution.
Receive a shareable video and performance report of the solution.
The Digital Twin allows for easy remote support and verification of future changes in production.
By adding your solution to MyRobot.cloud, your product will become eligible for lead generation (services).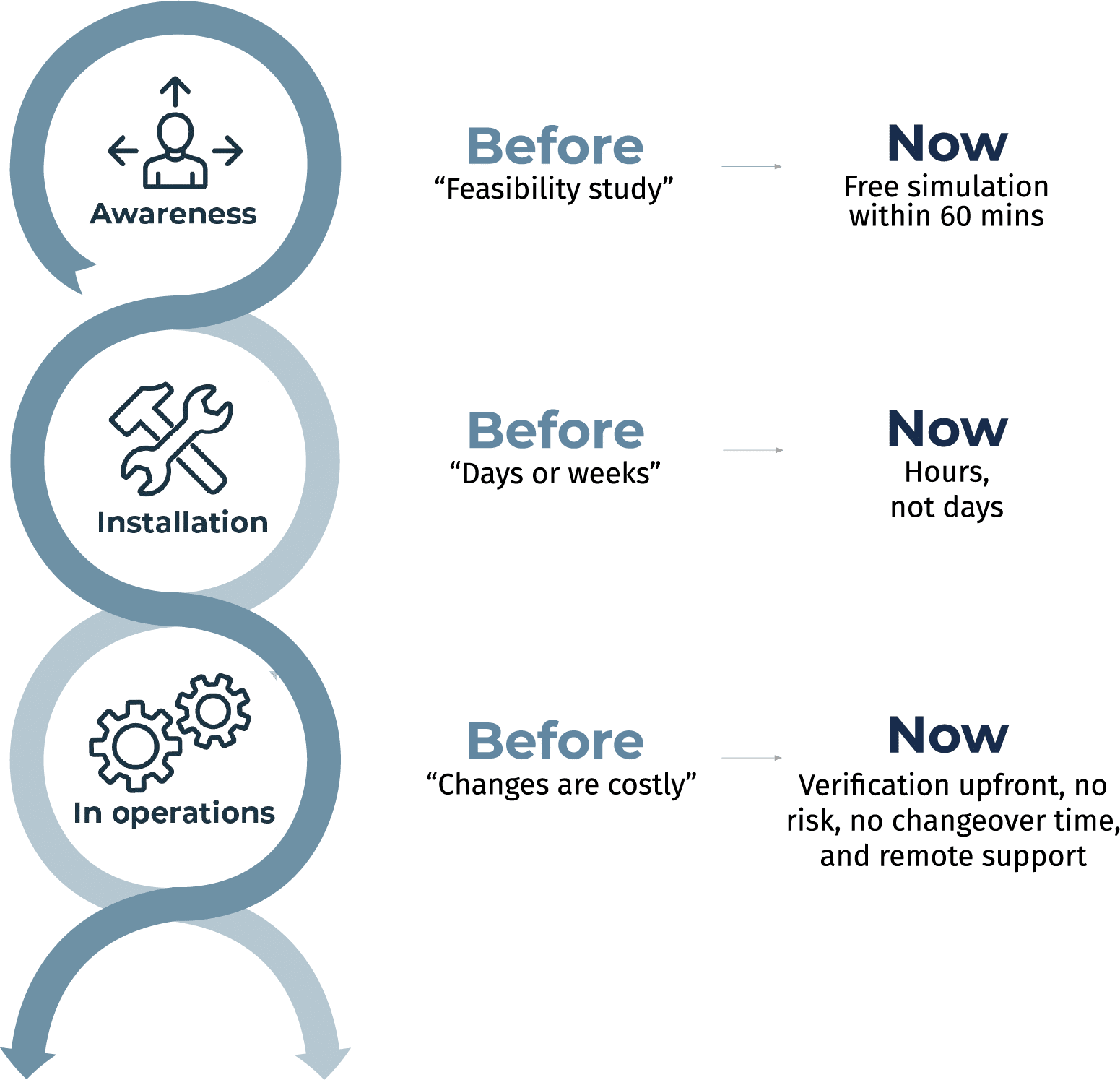 The world's first cobot palletizing search engine!
Part of MyRobot.cloud is our "Fast Track to Cobot Palletizing," a cobot palletizing search engine tool designed to match customers with solution providers. It is our latest product service for you to use, free of charge.
The 3D simulation video shows a digital cobot for palletizing specific products to customers. By entering basic information about the product, choosing the pattern, and selecting the desired patterns, the customer will receive a Digital Twin Simulation. The customer also gets a detailed project report, including all the technical details needed to make a qualified purchase decision – all within 1 hour!
Together, the simulation and the project report will act as an upfront verification of your project – meaning that the suggested solution will work in real life.
As a partner, you'll also have access to MyRobot.cloud Fast Track Partner Edition through your channels.
Try it out now!
Interested in our platform? You can try it out now for free.
No payment information required.