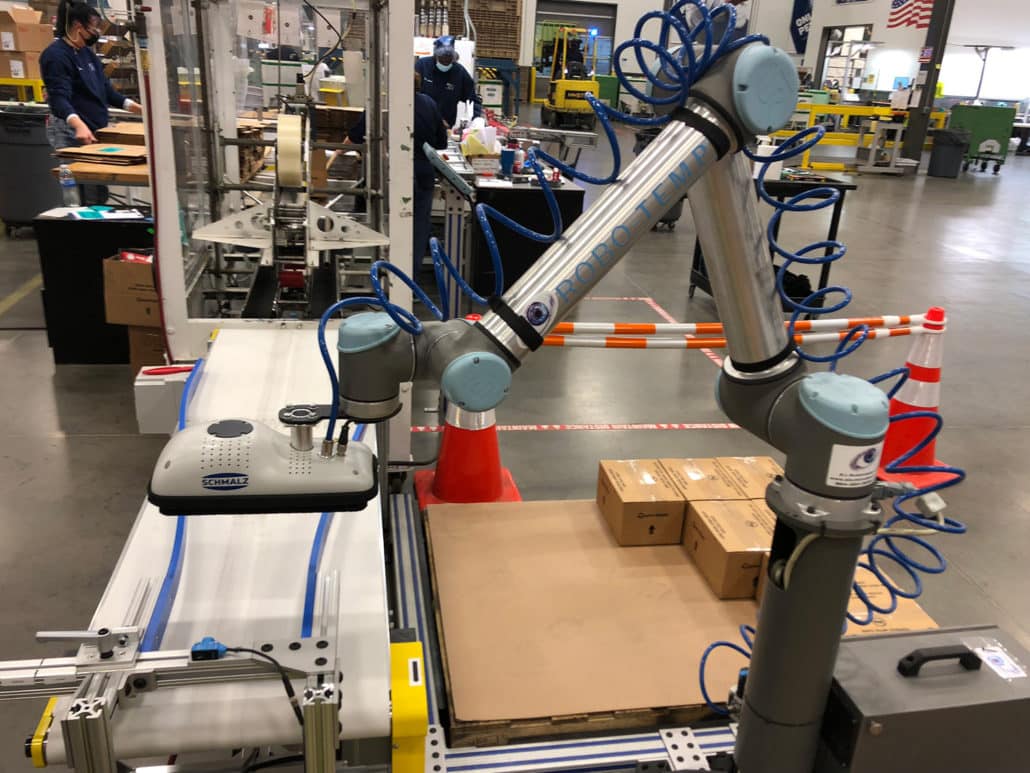 Cobot Palletizer solving labor struggles at TaylorMade
As with many other companies in the US, TaylorMade and their production facility in South Carolina is struggling with staffing and have reached out to several staffing agencies to help fill their direct labour needs. But it simply didn't solve their problems.
Instead they rented a cobot palletizer, paying an hourly rate and after just 3 weeks they had a palletizing solution up and running and doing 4 shifts a day palletizing boxes. Labour struggles were now a thing of the past for the end-of-the-line.
If you play golf, you'll know TaylorMade. If you don't, here's a short introduction:

TaylorMade is an innovative brand who are aiming to make all of their golfers better through advanced and quality equipment for golfers of all levels. In their production facilities in South Carolina they only produce golf balls and make en incredible 10.000 dozen/day.
It was the production line for golf balls where they saw a potential for automated palletizing.
The automation case
TaylorMade runs 24 hours a day 7 days a week and utilizes a 4 shift rotation for their production. Our Pally Partner, A.I. Automation LLC suggested a solution to TaylorMade, that would do the end-of-line work of palletizing, at the golf ball production line. It was not a simple task because there were several pack out scenarios to be followed.
Due to lack of labor in the area this position was often filled by a new temporary employee who would need introduction to the system and the inherent risk that TaylorMade wouldn't be able to find a temporary employee and someone else in the production line would have to do the palletizing, which would lower the output and speed of the production.
Kenny Rhinehart Director of Operations at the TaylorMade Golf Ball plant in South Carolina elaborates:
With the success TaylorMade has experienced with the install of our palletizing Robo Temp I would strongly suggest that other manufacturing environments look at the same approach; reducing labor costs, elimination of repetitive motions and weight bearing physical complications.
Kenny Rhinehart
Director of Operations at TaylorMade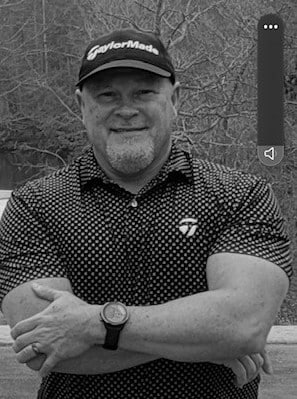 Introducing Robo-Temp
Robo-Temp is the offering from Pally Partner A.I. Automation LLC. It is way to introduce a collaborative robot to the production facility without having put money up front. Instead, the company pays a fixed hourly rate, similar to how you would hire a temporary employee. This offering lasts for the first 8600 hours, then the robot becomes the company (in this case TaylorMade's) property.
Michael Kreps VP Operations at A.I. Automation LLC tells:
Robo-Temp allows them to get into the collaborative market with little money up front and only pay an hourly rate similar to what they are paying the temporary company for a person.
And Kenny Rhinehart Director of Operations at the TaylorMade Golf Ball plant in South Carolina adds in:
Robo Temp is a definite solid performer and great choice in the current world labor market, automation is the clearest path forward for manufacturing.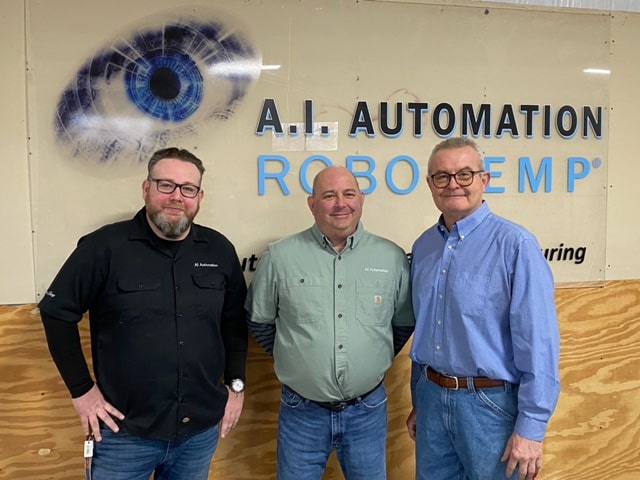 Some hard facts
The cobot palletizing solution as TaylorMade has since installation in mid-October 2021, been running 24/7 without any issues
With the partnership we have with Rocketfarm and Pally, we were able to have a unit fabricated, validated and installed in 3 weeks, far less time than a traditional automation company
Installation was completed in 8 hours
The installation at TaylorMade was the first cobot palletizing solution installed by A.I. Automation
Michael Kreps VP Operations at A.I. Automation is proud to share that:
Since this project was so successful, A.I. Automation and our Robo-Temp offering was so beneficial to TaylorMade, our team are working on 3 additional collaborative robotic solutions for them.
How was this possible?
The success at this project was a combination of skilled integrators and the advanced software offering from Rocketfarm. Before the installation at the facilities of TaylorMade, A.I. Automation had to prove that the solution they offered would be able to handle the performance required by the production line at TaylorMade in terms of payload, speed and reach. That the Robo-Temp would be able to handle the several pack out scenarios at the production line.
To get an upfront verification of the project, they made use of Rocketfarm Simulations from our Pally Pallet Builder. The simulations are a digital representation (digital twin) of how the solution would perform in real life. It's not just a visualization, it is an exact representation of how a UR cobot palletizing solution with Pally will perform in real life.
When the simulations proved that all pack out scenarios could be handled by Robo-Temp the process could proceed and A.I. Automation could, with confidence, and without having to engineer a test-solution, travel to TaylorMade's facilities and install the robot.
Let us help you get an upfront verification of your palletizing project
Today, with MyRobot.cloud – The Fast Track to Cobot Palletizing, we can provide you with a full project report and Digital Twin Simulation of a palletizing solution. Based on only simple product data, this will serve as an upfront verification considering the feasibility of the solution, free of charge.
Several operators and several pack out scenarios
With the production line doing 4 shifts daily and running 24/7 it was essential for TaylorMade to have an easy-to-use palletizer which wouldn't require much training for the operators and make it easy to to change between the pack-out-scenarios.
We have seen this situation with many of our palletizing customers, since our very first installation at our local production facility for Nortura in Sogndal in 2015. That's why the Pally software was an obvious choice for A.I. Automation for their palletizing solution. Pally has an installation wizard to guide the installation, and by using our online Pally Pallet Builder, an operator can change patterns in a few simple steps. And if there's an issue with the robot, the Pally wizard will guide the operator through troubleshooting and finding the correct solution to quickly and easily get production up-and-running again.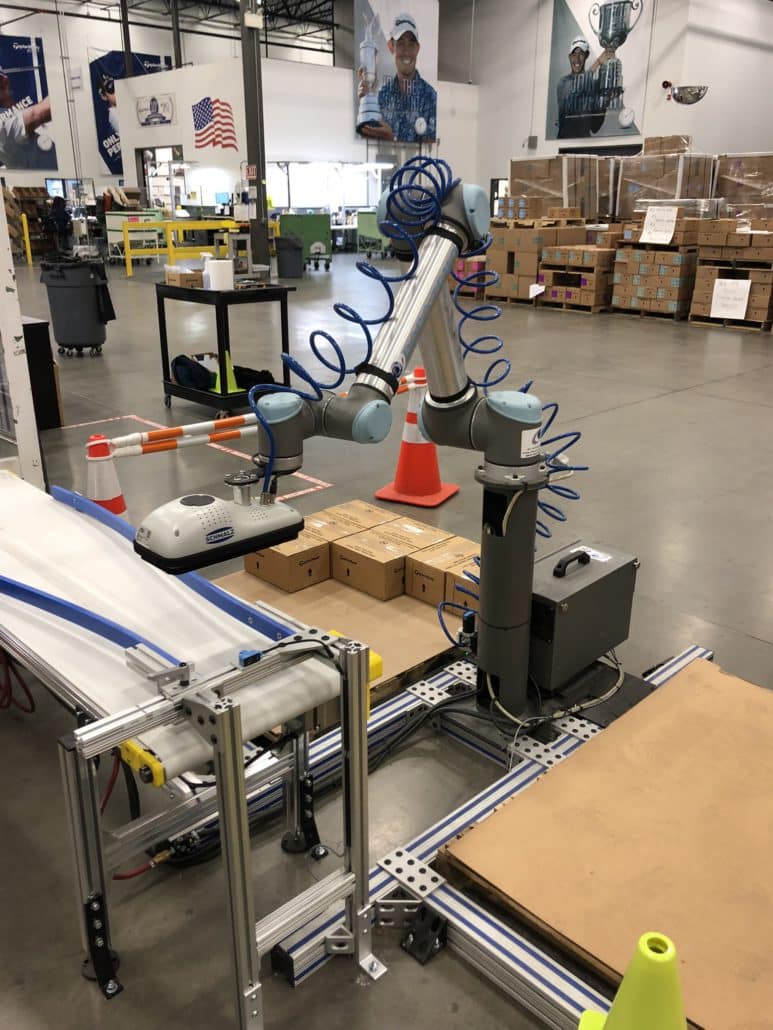 Employee satisfaction at TaylorMade
The colleagues to Robo-Temp are already hugely satisfied with the robot. By hiring Robo-Temp instead of new daily temporary employees the other employees at the production line have been able to focus on their own tasks.
TaylorMade associates remain excited and enthused to work side by side with our new Robo Temp that has taken the heavy repetitive lifting motions out of their standard work tasks.
Kenny Rhinehart Director of Operations at the TaylorMade Golf Ball plant in South Carolina explains.
Automation doesn't need to be complicated
What this story really shows is that automation doesn't need to be complicated. With Robo-Temp, upfront payment is low and the solution can be proven by performing at a set hourly rate. A lot easier than working with staffing agencies and doing daily trainings to new temps.
With digital upfront verification and the easy installation wizard, the system can be installed in hours and not days. And for the operators, a few hours of training is enough to successfully operate the robot and do more empowering work than before. We really believe that automation and collaborative robots are the answer to keep production onshore and to handle the challenges of labor shortage.
Sign up to our newsletter and get a FREE ebook
By signing up to our monthly newsletter, you'll get case stories, product launches and tips to automate your production line!
Additionally, you will instantly receive an ebook about implementing palletizing. For more information, please visit our newsletter subscription page.