UR20 Cobot – Everything you need to know
Universal Robots just released its newest family member of the UR cobot family, the UR20. Undoubtedly, UR must have had palletizing in mind when they designed the UR20.
This is the cobot. Redefined
UR20 is the newest robot to be launched by Universal Robots. It's the next level collaborative robot created to make automation more available to SME's all around the world.
Here we'll walk through all the facts, all the features and all the benefits of the UR20 robot.
Learn everything you need to know about the collaborative robot.
Introduction to UR20
The UR20 from Universal Robots is designed to take performance to new heights. It is their first cobot in what they call the next generation of industrial cobots. It will not only bring a new level of performance, but will also embrace key concepts for UR as versatility, small footprints and usability.
UR20 Tech Specifications
20 kg / 44.1 lbs payload

With up to 15 cm offset in full range of motion

The robot weighs 64 kg / 141.1 lbs

The lightest cobot with this payload on the market

1750 mm / 68.9 in reach

Palletize up to 2 m euro pallet with no lifting column

Software will be completely updateable
⌀ 245 mm footprint
65% more speed
25% more torque within a closed capsule
700 newton in largest joints
Can be mounted on any surface (floor, wall, ceiling)
LED indicator for at-glance alerts
Improved and different speed in every single joint (keeps strain of the robot low)
Product development feedback from more than 250 UR+ certified partners
Existing URCaps will continue to be supported by UR20
All safety certifications for current UR robots will continue (one new added for the US market)
Download the complete Tech Specification sheet via Universal Robots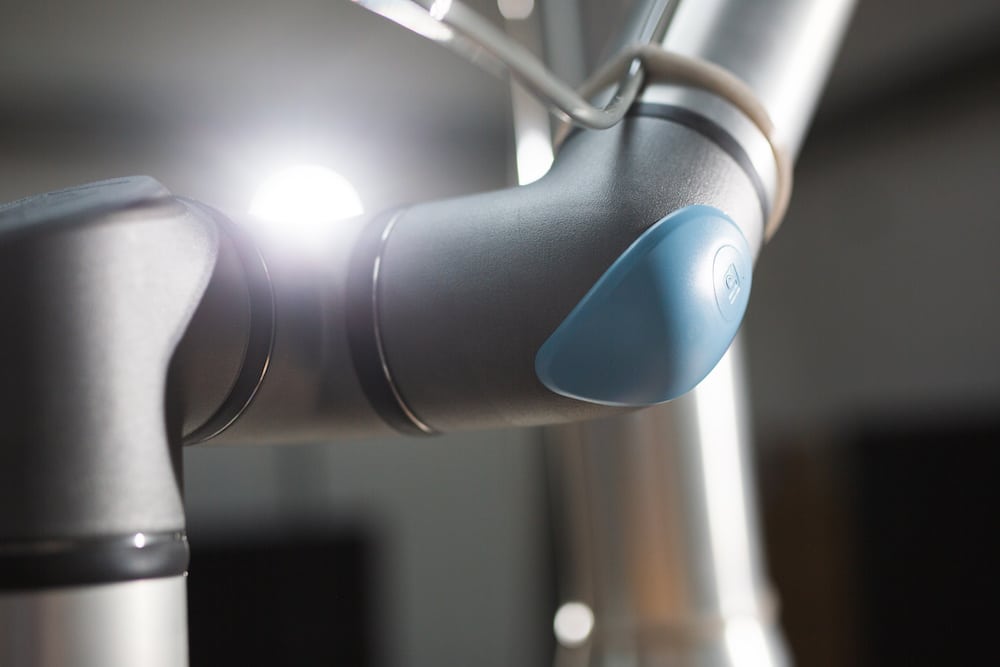 What's still not known
Price: Universal Robots have still not announced a list price for the UR20. What they have said, is that it will not be the cheapest on the market and that they will work together with their partners on finding a price that is appropriate for the market and the benefits of the UR20.
Delivery time: They have also not disclosed the exact delivery time yet. But they expect to be shipping in Q2 2023 and will begin to sell the robot in Q4 2022.
The benefits with the UR20 robot
| | |
| --- | --- |
| Features | Benefits |
| 20 kg payload | 20 kg payload in full reach and with 15 cm offset gives you a whole new range of possibilities. Allows you use a collaborative robot from Universal Robots to a lot more applications that were heavier. |
| The robot weighs 64 kg | At 64 kg it's the by far lightests cobot with this payload which makes installation easier and allows you to think differently about the installation as it can be mounted on any surface, on the floor, wall or ceiling. Really opening up a lot of new possibilities for space management and using the cobot in smaller facilities |
| 1750 mm reach | The longer reach opens up new possible application area without investing in other hardware. For palletizing applications it will minimize the need for a lifting column, which will improve the time which is needed to stack a full pattern. It will be able to palletize up to 2m euro pallets with no lifting column. |
| 245 mm footprint | Very small footprint, like a dinner plate. Allows you to install the robot even with limited floor space. More flexible and more possibilities for customization and making it work in manufacturing space. |
| Updateable software | Every part of the UR20 software can be updated and will be continously updated. Even if it's a new platform it runs on well-known software which ensures stability and performance throughout the life of the UR20. And especially important in a new product launch. From the very beginning. |
UR20 will make cobot palletizing available to more manufacturers
From our point of view, and also highlighted by Universal Robots, the UR20 cobot is perfect for palletizing. It features a higher payload at the full range of motion and a bigger reach. Both will benefit customers looking for a palletizing solution.
Read our in-depth-analysis of the UR20 for palletizing
The UR20 really makes cobot palletizing available to a lot more manufacturers due to it's higher payload and longer reach. We've seen a high demand for palletizing solutions in this payload range.
Egil Mundal
Chief Executive Officer at Rocketfarm AS
Pros and cons in UR20 palletizing
The payload up to 20kg, long reach and faster movements really makes the UR20 wellsuited for palletizing. Below you'll learn about the pros and cons.
Pros:
Lift heavier boxes
More boxes per minute (a higher cycle time)
Increased safety (by picking more boxes per lift and slowing the robot down)

Will also reduce wear and tear and improve longevity of the robot

Reduce the need for lifting column
Cons:
Capital Expenditure (CapEx) for UR20 solution will probably be higher, but the increased potential might make it a cheaper in the long run
More safety requirements if run at higher speeds (fencing, sensors etc.), which will increase the solution price
Heavier boxes
The ability to palletize heavier boxes is self-explanatory. With a higher payload of the UR20 cobot it will be able to lift heavier boxes. The payload range between 10kg (now 12.5 kg) from the UR10e (the currently most used UR cobot for palletizing) to 20kg in the the new UR20 is in high demand, which makes this robot a much needed addition to the portfolio.
Higher cycle time
The UR20 robot is 60% faster than it's predecessors (or competitors), which will allow the robot to make more cycles per minute simply by the robot moving faster.
But it can also increase cycle times for projects with lower box weight (below 10kg) as the higher payload allows the UR20 robot to utilize multipicking of boxes, which will increase the amount of boxes to be palletized in a given timeperiod.
Slowing down the robot makes a lot of sense
Another benefit of being able to multipick boxes is the ability to run the robot slower. Just because the robot is faster it might not be necessary for your application to run the robot at full speed. By running the robot as slow as possible to meet demands, the solution will be safer, the strain on the robot will be lower and you will have bandwidth for future production improvements.
The goal is to run the robot as slow as possible while still meeting production demands. This increases the safety of the solution and the longevity of the robot, hence improving the lifetime value of the robot. By multipicking boxes you can drastically decrease the speed.

Halvor Gregusson
Chief Innovation Officer at Rocketfarm AS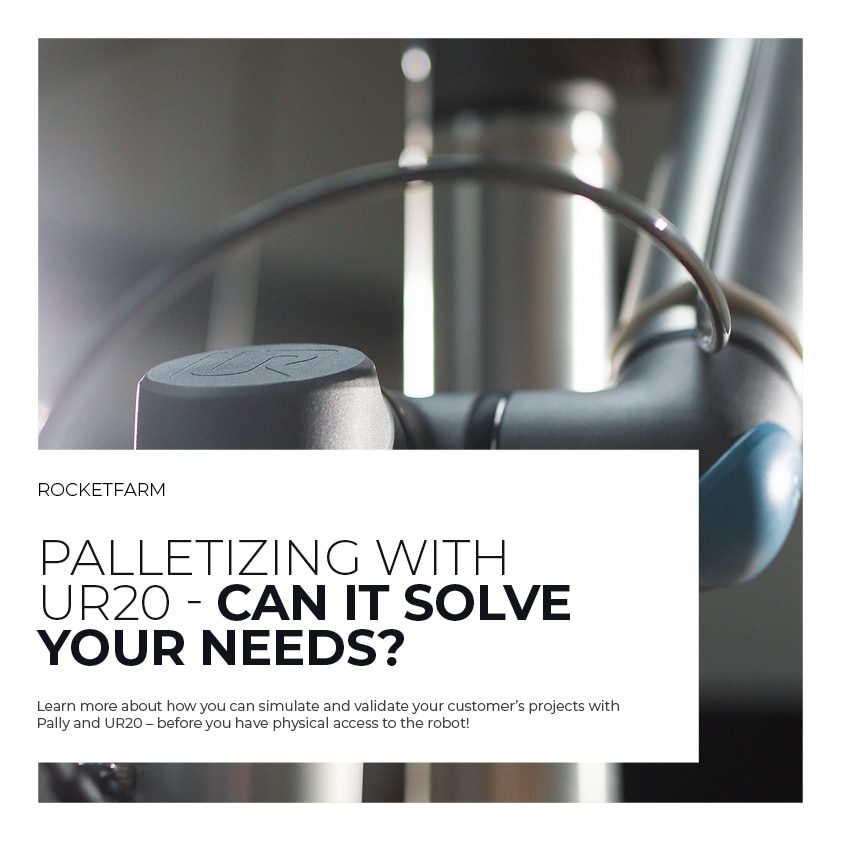 Less hardware
With its longer reach and ability to palletize up 2m euro pallets without a lifting column will mean that a UR20 palletizing solution could require less additional hardware. This has several advantages as less hardware means less hardware that can break and less hardware that you need spare parts for. Overall this will equal a more robust palletizing solution.
Less hardware also has it challenges in relation to robot reach. Learn more in our in-depth palletizing analysis of UR20.
There were a number of applications that our portfolio didn't cover [before the UR20], but specifically packaging and palletizing. Moving 40-lb boxes onto a pallet over and over again, day after day, is a task that you should not be doing. We had lots of conversations with customers about how we can help them deal with these challenges.

Kim Povlsen, CEO, Universal Robots. From The Robot Report
Want to see the robot before launch?
During the next months, the only possibility to watch the UR20 cobot in real life, will be at trade shows around the world (that UR will attend) and at the Universal Robots headquarters in Odense.
At a later stage the robot will also be available for chosen regional offices of Universal Robots.
UR20 and Pally
Pally will be compatible with UR20!
Pally is the leading palletizing software for Universal Robots. Designed to make cobots from Universal Robots easy to operate, easy to install and compatible with most hardware on the market. Pally ensures you get the best possible palletizing solution.
How to get the palletizing solution you need? Choose a Pally Palletizing Solution
Exactly when this will happen we cannot say yet, but we're in a good position and will have it ready as soon as possible. The same to say about Digital Twin Simulations with Pally and UR20. It will be possible, but we can't say exactly when.
Subscribe to our newsletter
To be the first to know when Pally and Digital Twin Simulations are ready for UR20
What we can say is that we see a huge potential with Pally and UR20 as many of the benefits with Pally makes even more sense with a larger cobot. The ability to smartgrip boxes (based on calculations, Pally chooses how many or how few boxes to pick) allows for more safety, higher cycle time and less strain on the robot. With an increased payload, the possibilities for this is vastly improved.
Improved Lifetime Value
Pally improves path planning and more smooth movements, which will be more important as the robot has the potential to move and accelerate faster. When choosing a more optimized path and more smooth movements, lifetime of the robot will be improved and hence the LTV in a solution with Pally will be better than in a solution without Pally.
Reach out if you would like to learn more about how Pally can help you achieve your goals in automated palletizing.
Brigt Grepstad Røysum
Channel Executive at Rocketfarm AS