Palletizing with Cobots. Everything you need to know
This article will cover the topic of palletizing with cobots, also called cobot palletizing.
The article will try to cover all the different aspects of palletizing with cobots and what you need to be aware of if you are considering af cobot palletizing solution for your production.
First the basics.
What is Palletizing?
The process of palletizing involves placing products on pallets for shipment or storage in a supply chain. It can be achieved in a variety of ways, but ideally the maximum amount of products is placed on the pallet. In addition to maximizing the amount of products on the pallet, it should be stacked in a way that is stable enough to withstand any stress it might be exposed to when shipping.
Traditionally, this is a labor-intensive task usually performed by hand. With the progress of the fourth industrial revolution, more or less automated systems are gradually taking over and this is where cobots is one of the options available.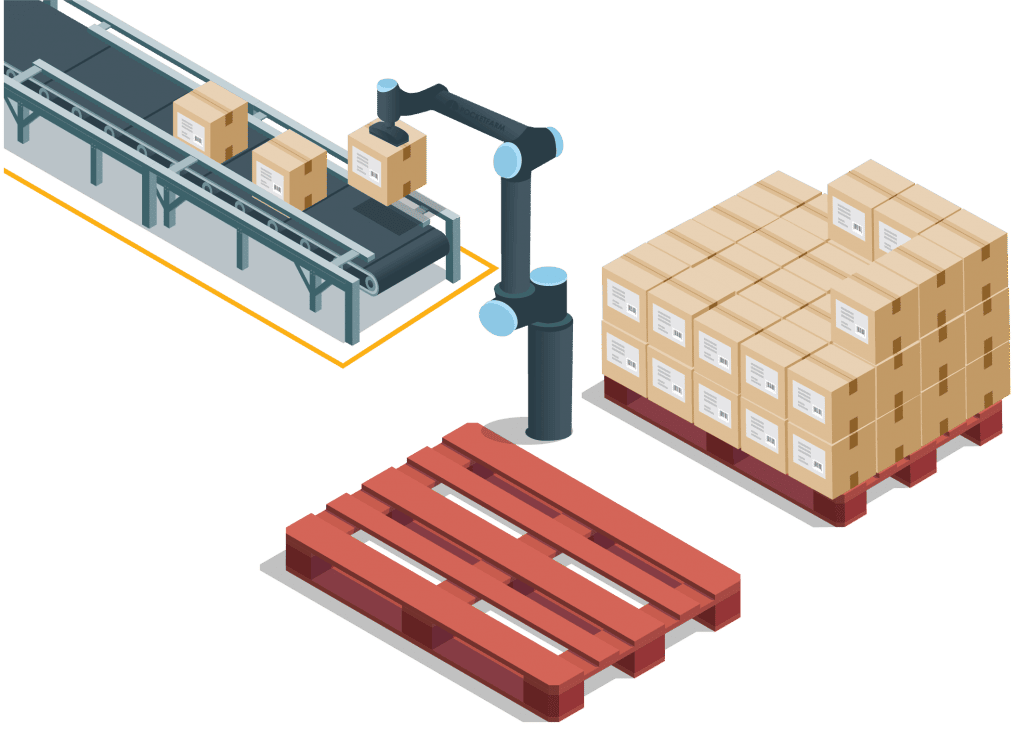 What are Cobots (collaborative robots)?
Cobots are robots that are designed to to work alongside humans and collaborate with them while solving a task, they provide a cost-effective, safe and versatile way to do everything from quality inspections to palletizing while collaborating with humans. In addition to all of these advantages, collaborative robots are simplifying the automation process more than ever before. Making advanced automation available for even for small and medium sized businesses.
In short they are robots that do not need to be caged to work alongside humans, they are collaborative.
What makes up a palletizing solution
By using sophisticated software and capable hardware, palletizing is no longer a task for manual labor. Palletizing software is the brains of the operation, you might think it doesn't take much to place boxes on a pallet, but the software is designed to run on millimeter precision and lets you customize your own patterns without any downtime.
To start your journey towards automating your production with a palletizing cobot you can check and verify your project here.
Hardware
This is the moving parts executing the tasks, the minimum hardware needed is a cobot, Gripper, Base/lifting column (depending on height), conveyor, sensor and buttons.
Universal Robots also recently announced their new UR20 cobot, with max payload of up to 20 kg. It may not be certain, but they expect to be shipping in Q2 2023 and will begin to sell the robot in Q4 2022.
Click here to learn more about UR20 cobot palletizing
Pally Software
Pally is a palletizing URcap designed to be seamless, flexible, and quick to install. With our software, your palletizing operations will be simple and easy to use. It handles production changes without requiring any downtime and allows you to utilize the full potential of the cobot. For now and for your improved future production.
Pattern
This is how your products are being stacked on the pallet to suit your specifications. Quite simply build a pallet pattern in the web-based robot programming tool, Pallet builder, and upload it to the URCap and start palletizing your custom pattern.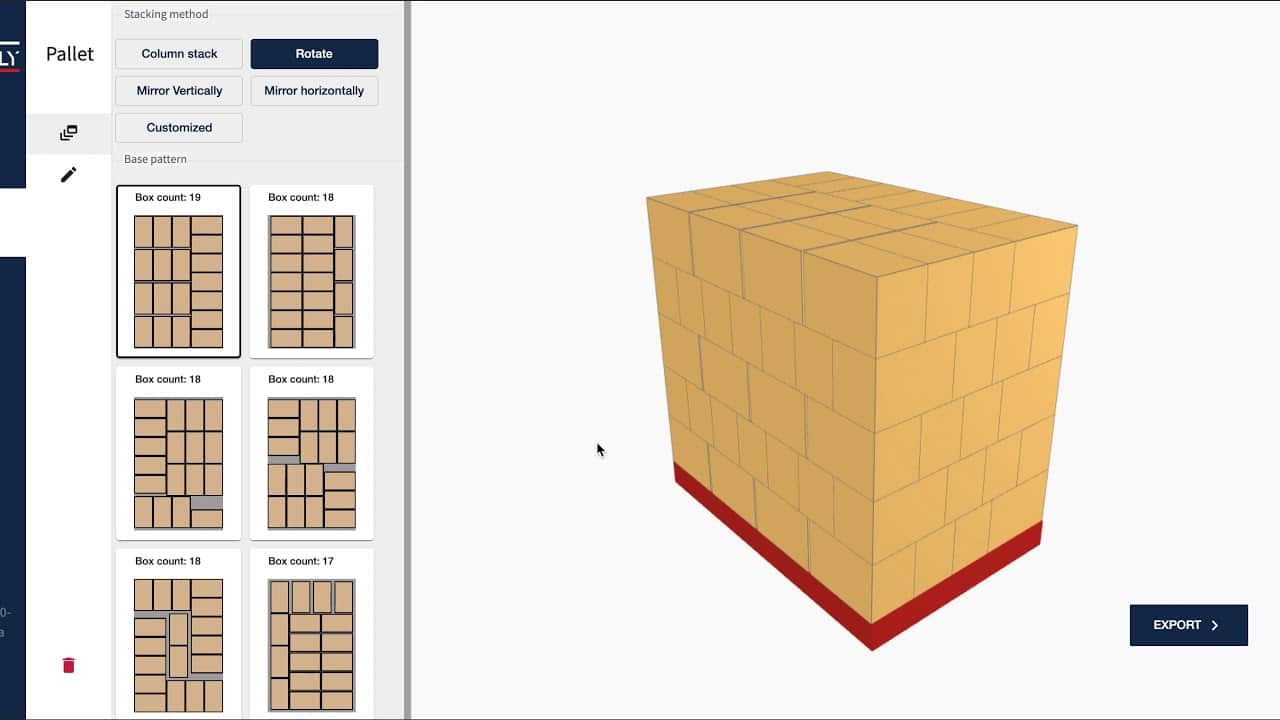 What can you expect from cobot palletizing?
Precision, reliability and quick and easy installation. A cobot is expected to perform the task with no mistakes and with a work ethic that only machines can possess. You will get a safe and reliable worker equipped with functions to ensure the safety of others, this includes a stop function if the cobot collides with something or someone, adjustable speeds and emergency stop button. A cobot also adds resilience to your production as it is always there to do the job. As perfectly as programmed. Every time.
Faster and easier deployment
When choosing a palletizing solution, you can expect a quick process from setting up hardware to production. An example of this is Taylormade's recent installation by A.I Automation:
"With the partnership we have with Rocketfarm and Pally, we were able to have a unit fabricated, validated and installed in 3 weeks, far less time than a traditional automation company"
The cobot palletizing solution as TaylorMade has since installation in mid-October 2021, been running 24/7 without any issues
Read the entire story of how TaylorMade have solved their labor struggles by renting a cobot palletizing solution
Cases like this reflect the many advantages of cobot solutions, if you want to discover more advantages and possibilities the next section is for you.
Pros and cons for cobot palletizing
Advantages
There are numerous advantages to using a cobot, let's start with the obvious: Cobots don't need breaks, they don't need holidays, and they don't call in sick. By implementing a cobot you get a worker who is always accurate and on time. There are lots of good examples where a cobot has effectively increased production and liberated human resources from repetitive and weight bearing physical labor (like palletizing) to more meaningful tasks. In addition to being an exceptional resource the expected return on investment time is really short, in most cases less than a year.
Why not just use an industrial robot?
For traditional industrial robotic systems, heavy fence guards and peripheral safety equipment are required, this can lead to a reduction in flexibility and will severely increase costs and space requirements. Cobots on the other hand are designed to coexist with human beings and share the same workspace.
A cobot palletizing solution can have a footprint as small as 0,16 sqm (+ pallets)
Click here to learn more about cobot vs robot palletizer here
Disadvantages
Compared to an industrial robot, payload and speed is significantly lower. For the cobot to be able to work without physical safety installations it has to move slower and the design of the cobot also limits the payload. A cobot palletizing solution is therefore not an obvious choice for high volume low mix production lines.
Work speed can be additionally impacted with it's safety measures. A cobot should slow down or stop if it detects a person in its working environment.
Cobot palletizing for Small and Medium Enterprises
There is lots of research done on industry 4.0 and the automation of product lines. Palletizing with cobots is one of many possible ways small to medium sized enterprises can keep/gain competitive advantage and join the fourth industrial revolution.
Human–robot collaboration is a new frontier for robotics, and the human–robot synergy will constitute a relevant factor in industry for improving production lines in terms of performances and flexibility. This will only be achieved with systems that are fundamentally safe for human operators, intuitive to use, and easy to set up
Matheson, Minto, Zampieri, Faccio, & Rosati, 2019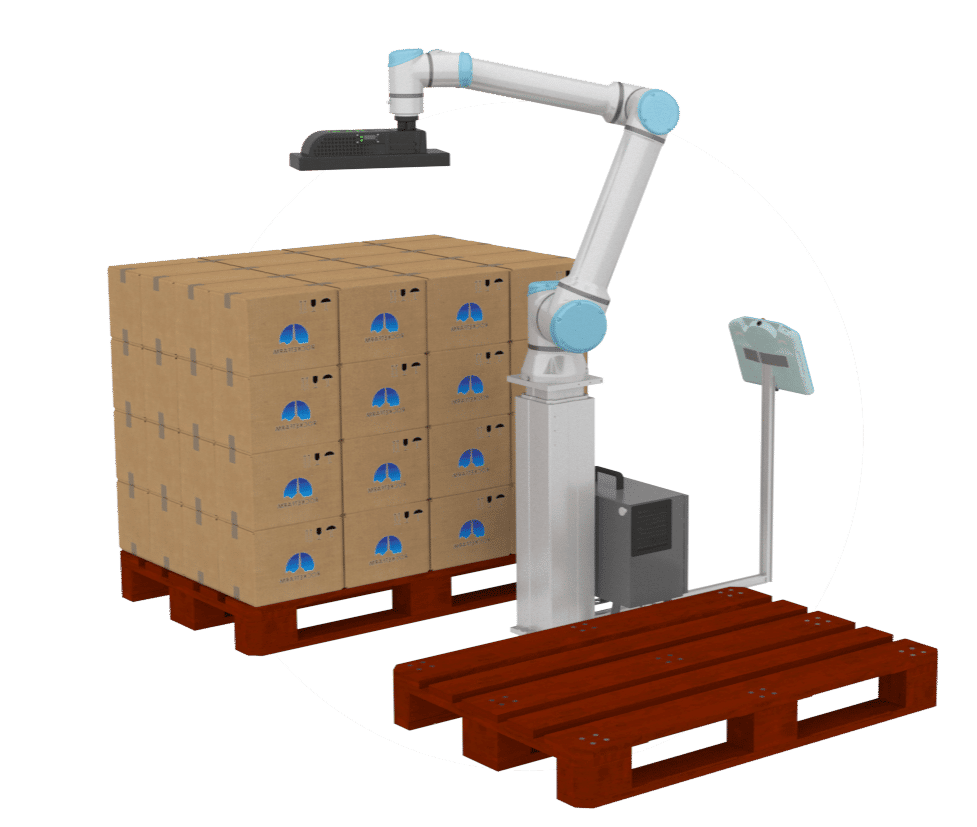 Low risk – high reward
Cobots represents a low-barrier for automation where the initial investment (and risk) is limited, but the potential gain is substantial and ROI short. Especially in markets with labour shortage the benefits of a cobot (and automation in general) can hardly be under-estimated. Nothing beats an employee (the cobot) who shows up everyday and does it's job (simple, but boring and dangerous) to perfection every time.
A bright future
Industry experts are predicting a great future for cobots and industry 4.0, the possibilities are many and diverse. By different programming and new tasks the cobots are expanding their area of expertise, palletizing cobots are getting more and more capable in terms of lift capacity, effectivity and reach. This means that you could lift heavier products, palletize higher, longer and wider. Because of the short ROI a cobot turns profitable really fast and allows you to deploy human resources on other more valuable tasks than stacking cases.
When all things are considered, the key takeaways from this article is that the limitations and disadvantages of a cobot palletizing solution are far less than the possibilities and advantages. And it doesn't have to be difficult to start.
Let Rocketfarm provide you with an upfront verfication of your palletizing project by using digital twin simulations. This way you'll get trustworthy proof of whether your project can be solved by a cobot palletizing solution.
Sign up to our newsletter and get a FREE ebook
By signing up to our monthly newsletter, you'll get case stories, product launches and tips to automate your production line!
Additionally, you will instantly receive an ebook about implementing palletizing. For more information, please visit our newsletter subscription page.