Try before you buy!
"Free trial" is common for web services like Netflix, but not for industrial machines. Fast installation and easy programmable robots enable new business models for automation.
In Norway, Kameleon is offering free installation and operation of robotic palletizing for one month. The conversion rate is far beyond what any web service could ever dream of.


You may have tried Netflix or Spotify for 30 days, then decided to either buy or stop the service. When Kameleon faced challenges in selling its new robotic palletizer, they chose to offer just that to convince customers that the robots kept what they promised.
"It's about building trust in both the product and the supplier before you buy," says Trond Olav Eek, CEO of the Kameleon Group.
"We know we promise a lot with this product. Short payback period (one year), and both installation and training are done within two days without the need for stop in production. Still, we struggled to get the signature on the paper. But when the customer actually got this into their facilities without obligations, everyone realized that there was never an alternative to take them out again. It was clear that both management and operators needed to see it before they could trust it. "
Of the six customers who have tried the solution with free trial, all have ended up with the solution permanently.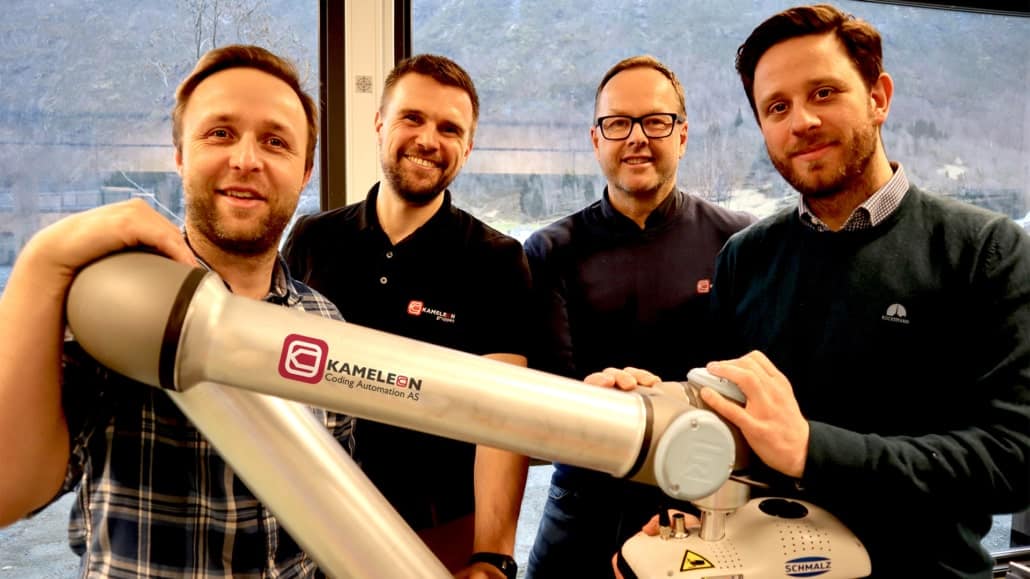 Find palletizing solution
With Rocketfarm software it's possible to verify your palletizing project upfront by using advanced simulation technology
The secret behind the offer lies in low installation costs, and for that you need a flexible solution that works for most scenarios right out of the box. Therefore, together with Rocketfarm AS, a company that specializes in software for collaborative robots from Universal Robots, they have developed a palletizing software that takes into account many different scenarios.
"We have heard stories about other solutions where it costs 10,000 dollars to reprogram the robot into a new product and new stacking pattern, but by creating a generic palletizing solution, the customer can do this themselves within 10 minutes," says Egil Mundal, general manager at Rocketfarm AS based in Sogndal.
"With targeted development towards a specific application, it enables the solution to be delivered off the shelf with minimal installation time, but also to be very flexible".
Rocketfarms palletizing software, Pally, is therefore standard equipment for Kameleon's robot palletizers and key to the new business model with free trials. But the story does not end here. "Where Kameleon constantly found new problems to solve, we had to improve the robot app accordingly. When we had reached an industrial level, we decided to find similar partners abroad to recreate what we have created with Kameleon in Norway.
"For the past year, we were therefore looking for companies like Kameleon in global markets. The goal was to find 10 partners by the end of 2019, but ended up with 24 and the number is steadily increasing. Among them, Columbia/Okura, a company from the US specializing in robot palletizing for 25 years. Now, we tell our partners about Kameleon's free trial and their results. I guess we will soon see similar offers abroad, " says Egil.
Egil Mundal
CEO at Rocketfarm
Sign up to our newsletter and get a FREE ebook
By signing up to our monthly newsletter, you'll get case stories, product launches and tips to automate your production line!
Additionally, you will instantly receive an ebook about implementing palletizing. For more information, please visit our newsletter subscription page.