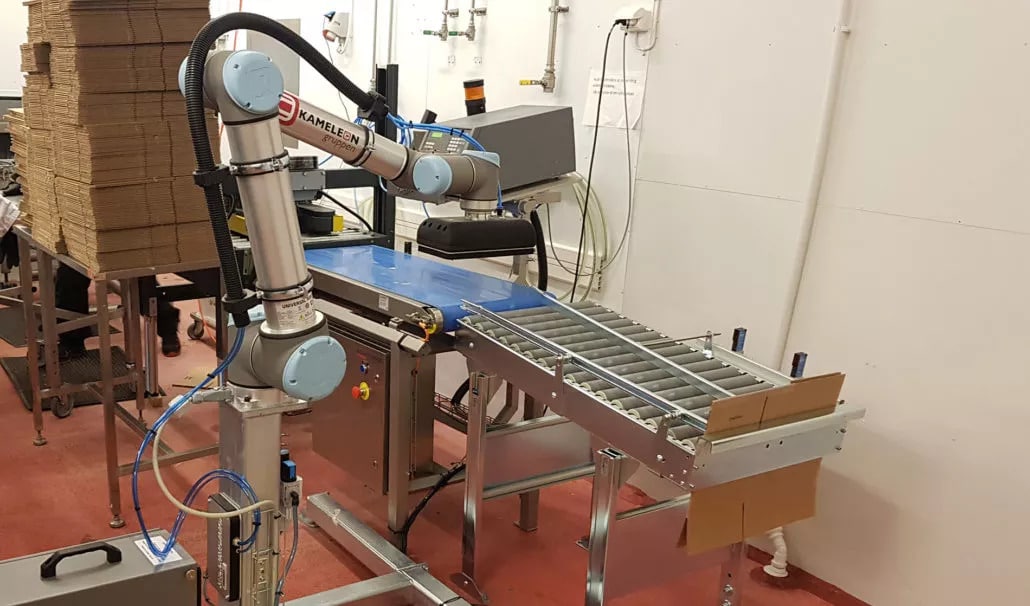 Dual Product Mode with Pally
Palletizing onto two pallets, from two conveyors and combining single and double box picking. Not an easy task, but Pally can do it.
At Den Stolte Hane (The Proud Rooster), Norway, they have a production line which require that Pally can handle two products from two conveyors at the same time.
Here we'll explore how Pally solved that task.
The installation at Den Stolte Hane in 2018 were in the early stages of developing Pally. To make it happen it was necessary to utilize the (then) full potential of Pally and further develop our software.
Back in 2018 this case at Den Stolte Hane was not straight forward. To reach the required CPM for the production, Pally had to service two conveyors, two pallets and utilize a combination of single- and double-pick.
This case helped us to develop Dual Product Mode, now natively integrated in Pally.
Den Stolte Hane is a chicken and egg producer from Jæren in Norway. Built on a proud foundation of delivering healthy, nutritious, sustainable and norwegian products for norwegian customers. Already back in 2018 they saw that the future is automated and wanted to automate one of their production lines. So they approached our partner Kameleon Gruppen, who handled the hardware, the installation and the training.
But the requirements were not simple. They had two conveyors and two differents products arriving simultanously. Back then we didn't have the solution to solve their requirement, but we saw the potential for an important new feature and advantage to Pally.
So we developed Dual Product Mode. And now any palletizing solution with Pally can handle a similar production line.
Watch Dual Product Mode in action at Den Stolte Hane:
Dual Product Mode now natively integrated in Pally
Dual Product Mode allows Pally to palletize two different products from two different conveyors at the same time. The products can have different dimensions and the pallet patterns can be specific for each pallet. The flexibility in this feature is very beneficial for production facilities with special requirements.
Dual Product Mode is now natively integrated in Pally, which is why a case like Den Stolte Hane is now well within the reach of Pally. We always include the solutions we develop in Pally, because we usually see that even very special cases always offer new knowledge and benefits for other facilities around the world.
Learn how to set up Dual Product Mode in Pally
Because we base the development of our URCap upon the needs of our customers, Pally gets better over time. This is one of the reasons why Pally now is incredibly user friendly and the fastest UR Palletizing software on the market.
Grip up to 8 boxes
But Pally can do more and grip up to 8 boxes at a time. The software has limit on 8 boxes, which would also then require 8 physical box detection sensors on the conveyor. But that is not the limit. That is just where we found it reasonable to stop. If you think outside the box it is perfectly possible to lift more than 8 boxes with Pally.
Follow us on LinkedIn and sign up to our Newsletter to never miss a case story and information about the many possibilities with Pally.
Looking to automate your palletizing?
If you have an automation project where your boxes are below 15 kg or the CPM is less than 30 minutes, it's worth considering a cobot palletizer. They require practically no floor spacing, can work next to humans and is way cheaper than a full size industrial robot. The possibilities are almost endless.
With MyRobot.cloud – Fast Track to cobot Palletizing, you can get a upfront verification of your palletizing project within 1 hour. This will significantly lower the research time you need to spend before continuing further. It will provide you with a Digital Twin Simulation and a project report with everything you need to move your project forward.
Sign up to our newsletter and get a FREE ebook
By signing up to our monthly newsletter, you'll get case stories, product launches and tips to automate your production line!
Additionally, you will instantly receive an ebook about implementing palletizing. For more information, please visit our newsletter subscription page.