The UR cobots makes no mistakes
To be competitive in a highly competitive field, Maskinpakking AS, have to be automated, flexible and reliable. That's why they've chosen Pally and collaborative robots!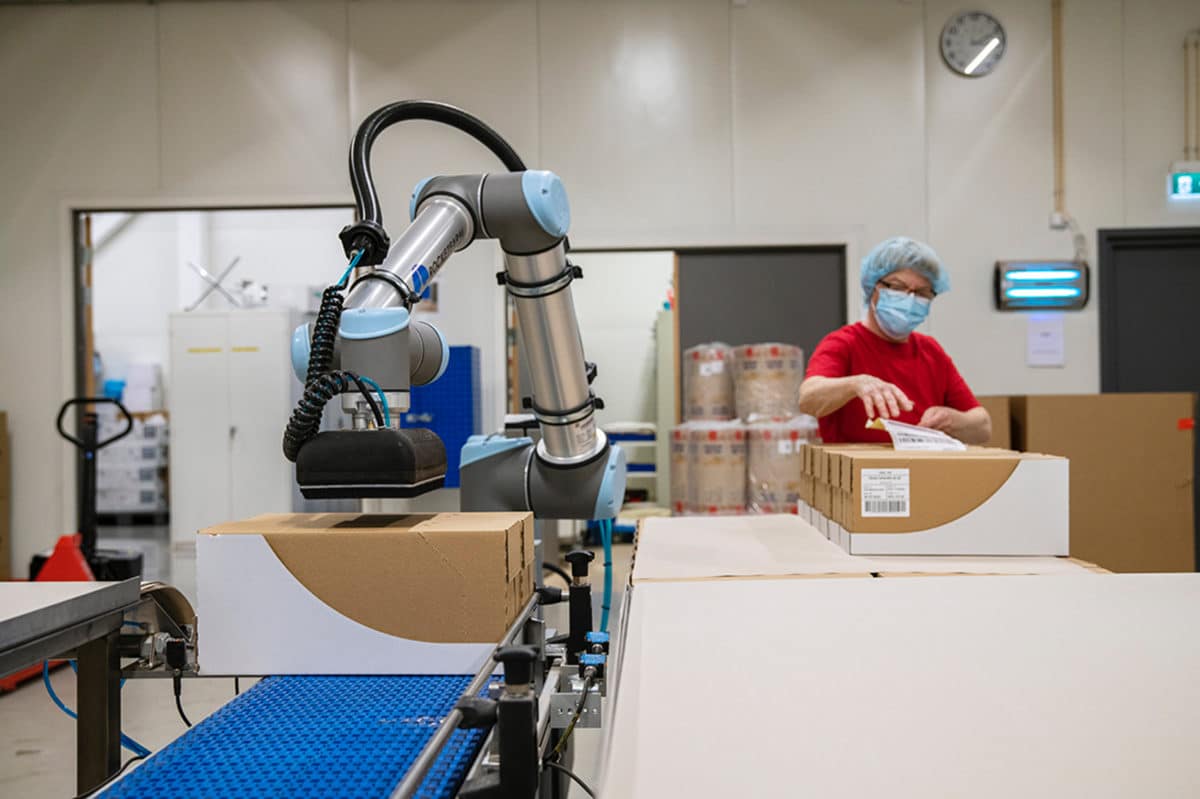 The competition for assignments is tough
Maskinpakking AS is one of the biggest and busiest co-packaging companies for dried foods in Scandinavia.
To compete with competitors in low-cost countries it is a necessity to have modern and automated production equipment. Since the summer of 2019 two UR10 cobots, delivered by our partner Kameleon have done most of the palletizing in the production.
And they've never made a mistake.
On the top of the hill in Hurumlandet in Asker Municipality with a great view over the fjord of Oslo is where Maskinpakking AS has it's production.
– Mondelēz which owns Freia (A very popular chocolate in Norway, ed.) is responsible for appr. 30 percent of our turnover, says Head of Production Knut Thomassen, while he shows us into a light and cosy conference room. Looking around you see famous products on exhibition. Freia Jelly powder and cashew nuts to mention a few examples.
We're the largest co-packaging company in the Nordic countries for drinks and baking. We deliver to all of the countries. At the moment it's different forms of nuts and organic seeds which generates the majority of the turnover.
Knut Thomassen
Head of Production at Maskinpakking AS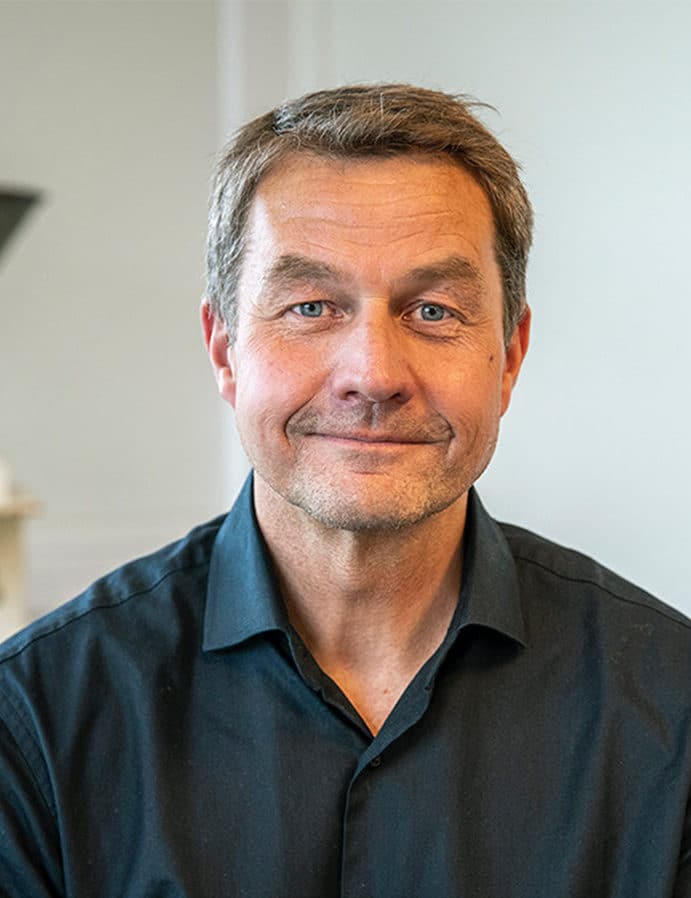 Tough competition with low-cost countries demands a modern production
One of the reasons that Maskinpakking have been able to compete on the co-packaging market the last decades is because they're dedicated to find and implement the newest and most effective production equipment on the market. This enables them to produce incredibly effectively.
– It's a very competive field of business, explains Thomassen. Every time we're renegotiating deals we have to go through tough bidding rounds with co-packaging companies in countries such as Portugal, Spain, Lithuania and Latvia.
If we offer the same price as earlier we risk losing the contract. We need to lower our price every time.
The UR cobots have been running around the clock for two years, without any sick leave
– To stay as a co-packaging company and still have some profits, we have to be leading on technology, states Thomassen. The cobot solutions from Kameleon have been great. They've made palletizing a lot easier for us.
Maskinpakking have a total of 3 UR cobots. The smallest, UR5, does simple tasks such as turning and placing boxes, while the two UR10 cobots are busy palletizing.
– The flexible cobots makes no mistakes, unless the programmed for mistakes, he smiles. One of our cobots have been working around the clock for two years, with no exceptions. If we should have had our employees to do the same job manually would salary and social cost, quickly have been close to 200k USD a year.
One of the UR10 cobots at Maskinpakking is equipped with our Pally software.
– Pally makes is incredibly easy for the operators to run the robot, says CEO at Kameleon Trond Olav Eek. And every time there is a new boxformat or pallet pattern, they can easily set the robot on their own thanks to the logical and intuitive user interface.
– The ease of use and flexibility is a part of what makes Pally a great partner for a co-packaging company such as Maskinpakking, says Egil Mundal CEO at Rocketfarm. Future production needs a high level of flexibility and reliability. With Pally you get both.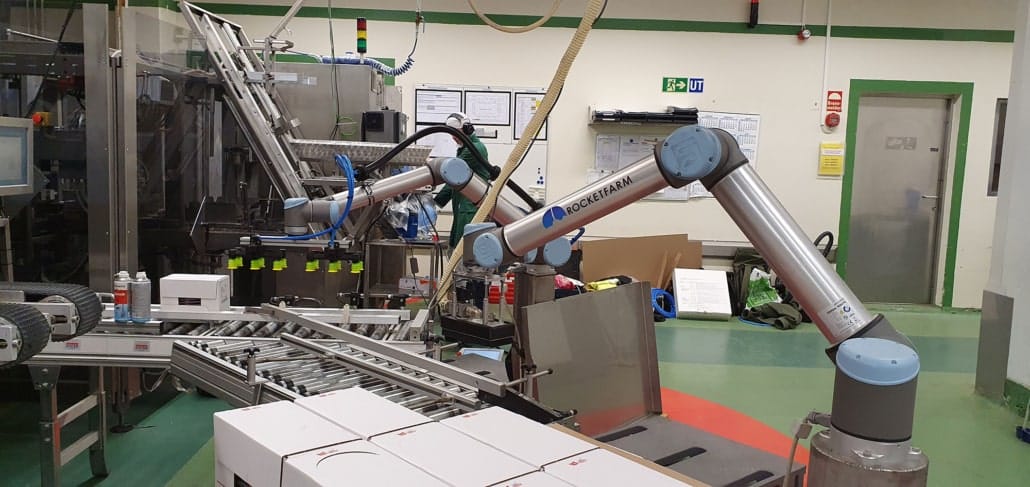 Saving the employees for 7 tons of lifting a day
– The economic aspect is one thing, but for us the HSE reward is just as important, Thomassen explains.
– When the packaging is running 100%, it's several tons of boxes that is moved to pallets during a workday. We're talking very big volumes. For some products an order is 600 pallets. With manual palletizing our employees could have workdays where they moved 7 tons.
Learn how a Norwegian brewery took care of its employees with a robot
– I don't think it's weird, that the employees in packaging are absolutely thrilled that the UR cobots have taken over the monotonous and heavy palletizing work. They also praise the cobots for being flexible, easy to manage and in general there's very little trouble with the cobots, Thomassen elaborates.
Find palletizing solution
UR cobots works splendidly side-by-side with people
– Another great advantage with the UR cobots, is that they work together with people, says Trond Olav. Other types of robots have to be put in a cage to avoid injuries to the people around them. UR cobots don't need that. A UR cobot stops automatically if someone gets to close.
– Most company executives probably feels a bit uncertainty about investing in an advanced robot.
– For many this is completely new, and they wonder if the robot will work as expected, says Project Engineer at Kameleon, Emil Nissfolk. In a buying process it is important to have support from the entire organization. From the owners to the operators who will be operating the robot.
30-day free trial
– We solved the problem by borrowing a UR10 cobot for testing in one and half month, says Thomassen. Kameleon delivered and installed it just before summer 2019. We put it to work immediately and it has continued ever since. By getting functionality proven to us do directly we were convinced this was a smart investment.
– And it's been huge success. We have yet to get a UR cobot delivered back after a test, smiles Emil Nissfolk.
To lend out robots for potential customers have become a part of the concept at Kameleon. We think it's important both for the management and the employees to understand the use of the cobot before they decide to buy on. So far we've had 11-12 cobots for testing.
Trond Olav Eek
CEO at Kameleon
Sign up to our newsletter and get a FREE ebook
By signing up to our monthly newsletter, you'll get case stories, product launches and tips to automate your production line!
Additionally, you will instantly receive an ebook about implementing palletizing. For more information, please visit our newsletter subscription page.