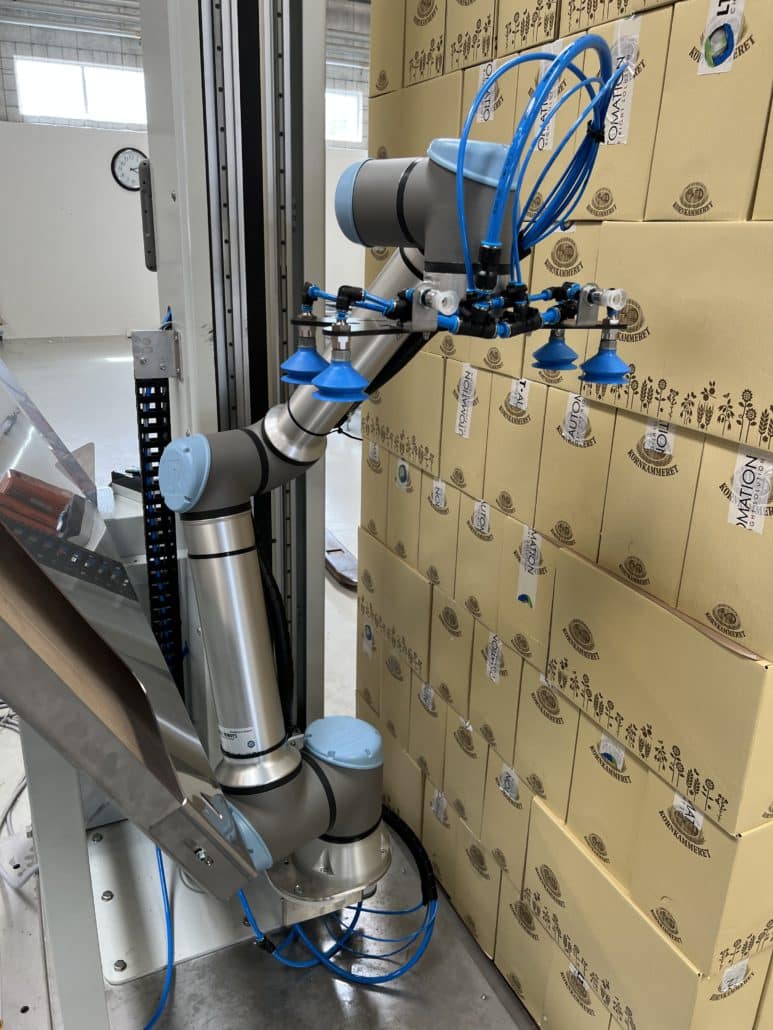 FIPROS automate repetitive jobs – to optimize work environment
– Happier, healthier and satisfied coworkers is our top priority. LT Automation have clearly understood our needs and made a flexible solution that is scalable, and as totally expected, it started working from day one, says Conny Twisttmann, the CEO in Food Industry PROcessing Services (FIPROS A/S).
FIPROS is a contract manufacturing and packing partner for food and food ingredients.
For more than 30 years, the danish company have been a central part in the process value chain of food industry companies.
With more than a hundred employees, FIPROS offer their costumers process solutions – e.g. blending, drying, grinding, bio-processing, compression and packaging of food – both domestically and abroad.
Not a stranger to robots
An efficient conversion- and production tool is essential to the danish company. The production equipment has to embrace and process a variety of different products. In addition it must also be scalable enough to adapt to the global supply demand of food and food ingredients.
That is why an automation strategy is central and why FIPROS is not a stranger to robots.
On the contrary, flexible automation is the prerequisite to secure high productivity and a strong competitive position. This is a part of the company's DNA, and broadly rooted among all the employees.
A socially responsible company – who cares about climate, environment and work environment, is also a central management priority. This means that the company has a strategic goal to constantly optimize work environments by automate repetitive job functions.
A flexible solution
As in many other industry companies, heavy lifting is a part of the daily tasks at FIPROS. At the same time, many of them have a scarce production area to work with.
LT Automation have developed an innovative, compact and modular automation solution. It is a flexible solution that can fit within existing production equipment, and be continuously expanded.
To avoid seizing too much of the scarce production area, the core of the automation solution is a compact and secure cobot from Universal Robots.
In addition to other benefits, the cobot don't need extensive fencing, like traditional industrial robots does.
Click here to learn more about collaborative robots (cobots)
Efficient for both production and emplyees
The solution consists, among other components, of a vacuum gripper in carbon fiber to keep the weight of equipment low and a zone-conveyor with alignment pusher. These components ensure that boxes in different sizes are automatically handled and systematically moved from the conveyor belt and stacked onto the pallet.
This is not only an efficient and optimal utilization of production areas.
It also spares the employees' backs and joints, now that the robot has taken over the repetitive manual tasks of moving boxes from the conveyor to the pallet.
Click here to learn how to get happy employees with a palletizing solution
Pally: The user-friendly palletizing software
An important element in a flexible and user-friendly solution, is a user-friendly interface that is easy to use for the individual employee.
LT Automation uses the palletizing software Pally from the Norwegian company Rocketfarm.
Pally is a advanced, yet user-friendly palletizing software. It creates a smooth work process between the employee and the cobot, when new box patterns and box dimensions need to be encoded in the system.
Sign up to our newsletter and get a FREE ebook
By signing up to our monthly newsletter, you'll get case stories, product launches and tips to automate your production line!
Additionally, you will instantly receive an ebook about implementing palletizing. For more information, please visit our newsletter subscription page.