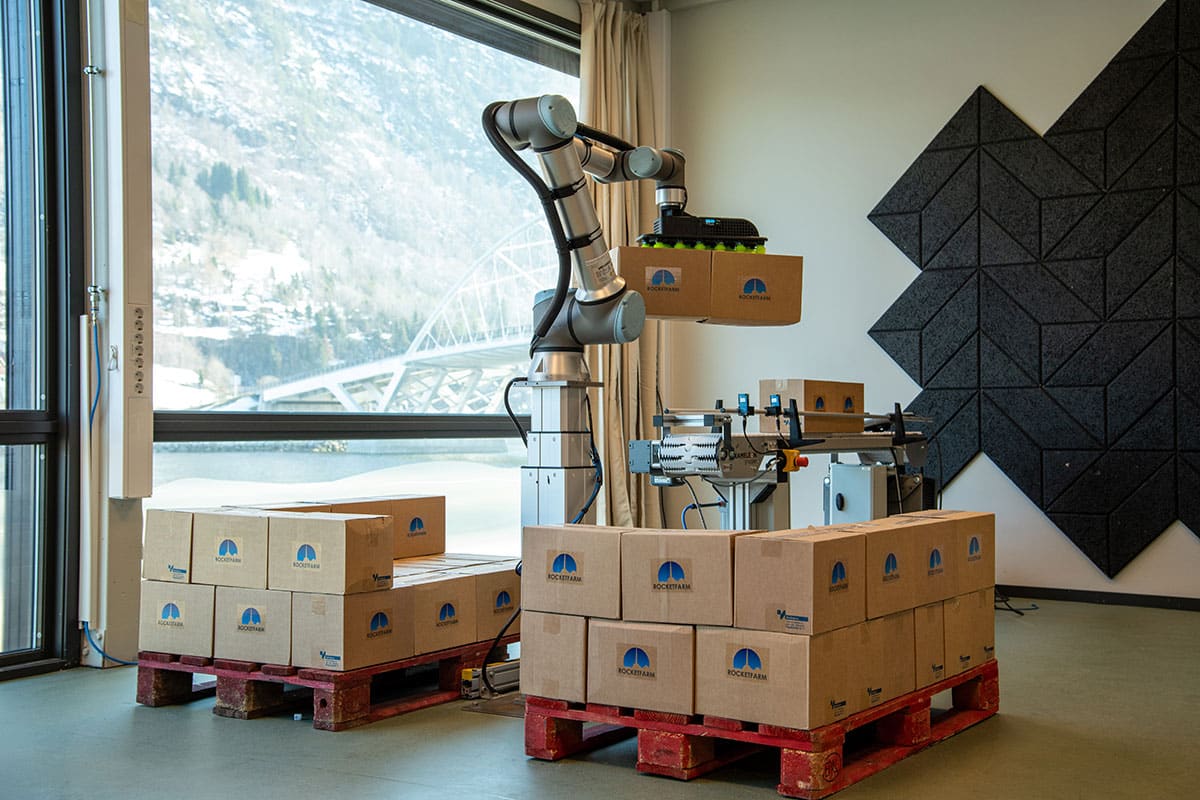 Universal Robots Palletizing Configurations
There are several ways to configure a Universal Robots palletizing solution to be perfect for your exact needs. Three palletizing configurations stand out. This article will present the possibilities and limitations of three palletizing configurations for Universal Robots. Furthermore, we examine how to verify your palletizing configuration.
There are a lot of different configurations to choose from – which allows you to have a configuration that suits your palletizing need
A palletizing configuration is the physical setup and base of the palletizing solution. You can have the cobot (collaborative robot) attached to a base that extends its flexibility and reach or you can have a base that makes it easy to move the cobot around to different stations.
Palletizing configuration –

Vertical 7th axis
Many manufacturers choose to configure their palletizing cobot from Universal Robots with a Vertical 7th axis.
Using a base that can move up and down extends the reach of the Universal Robot and enables it to palletize higher pallets. A vertical 7th axis gives the cobot freedom to move vertically, which allows it to potentially reduce freight costs by palletizing higher pallets.
A Pally Palletizing Solution is the only Universal Robot palletizing solution that offers out-of-box functionality for unlimited pallet height.
Increased flexibility
A 0 point can be set on a vertical 7th axis. This allows the axis to move under this point as well above since the 0 point can be set as 'any' height. This feature allows great flexibility to the vertical 7th axis and can suit many palletizing solutions. The mounting height on telescope columns (a common type of vertical 7th axis) is fixed and can sometimes cause reach issues on larger pallets.
Reduce downtime and cost
By having a fully integrated system for the vertical 7th axis you can reduce the downtime and the process of deployment will go more straightforward. As a result, the palletizing solution can have a lower total cost of ownership.
Palletizing configuration –

Fixed pedestal
The fixed pedestal is another popular Universal Robots palletizing configuration.
A fixed pedestal (also referred to as a fixed column configuration) is a configuration where the base of the cobot is attached to a pedestal. This configuration is attractive because of its low cost. It will often be a well-suited solution for low-volume and low-throughput palletizing projects.
Easier programming
Fixed pedestal configurations do not have an integration between the cobot and the extra axis. This results in a bit easier programming, requiring shorter downtime.
Restrictions
However, fixed pedestal setups are restricted in the space in which your cobot can operate. The height of the pedestal is designed for specific types of boxes and pallet setups. The size of the pallet that is used can have some limitations due to the reach of the fixed pedestal.
Pally Palletizing solutions are compatible with most hardware (and configurations) on the market so that you can choose the one best suited for specific needs.
Lina Venjum
Head of Channels, Rocketfarm
Palletizing configuration – Horizontal 8th axis
Another Universal Robots palletizing configuration that stands out is the horizontal 8th axis.
The horizontal 8th axis is not as frequently used among SMEs, but is a configuration that is popular in large facilities. Configuring your cobot in this manner, you can expand its work zone by allowing it to move horizontally. By having the horizontal axis your cobot can shuttle in-between stations and gives it the possibility to work on several pallets in a row. This can for example be useful if you have several different products coming on the assembly line.
The result of an extra axis gives the cobot even greater flexibility. However, the extra axis (both horizontal and vertical) increases the complexity of the system. It is therefore important to make sure that the extra axis is compatible with the cobot from Universal Robots. Even if it is compatible, it often requires some customization to integrate.
Choose palletizing configurations that solves your need
Deciding which configuration to use for your palletizing solution depends on the tasks you want to execute. There is no doubt that a vertical or horizontal axis gives your palletizing solution greater flexibility, but it may not be necessary to meet your requirements.
If you see the need or want the flexibility you could benefit from adding a vertical or horizontal axis to your solution. This adds to the costs, but can create greater value in the long term.
Palletizing configuration – Verify through Digital Twin Simulations
With so many possible hardware configurations to choose from, it is easy to feel lost. How would you know which setup works best for your production? With MyRobot.cloud, Fast Track to Cobot Palletizing, it makes it easy. In fact, it can provide you with an upfront verification within one hour.
Only basic information about your production is required to make accurate Digital Twin Simulations of possible solutions, fit for your palletizing project. The Digital Twin Simulations will serve as an upfront verification of your project. With it, you can access detailed information about software and hardware configurations, as well as how the solution will perform in real life.
In other words, our Digital Twin Simulations are an effective and accurate way of testing palletizing projects and will help you find the best configurations for your project. The platform will even match you with a solution provider based on your region and product specifications.
Sign up to our newsletter and get a FREE ebook
By signing up to our monthly newsletter, you'll get case stories, product launches and tips to automate your production line!
Additionally, you will instantly receive an ebook about implementing palletizing. For more information, please visit our newsletter subscription page.