Insights from the Collaborative Journey of Freyja + Mantis®
Rocketfarm collaborates to present an advanced and innovative palletizing solution. Bringing industry leaders together demonstrates how powerful a complete solution can be – and our aim is to inspire you to incorporate off-the-shelf components for a speedy go-to-market approach while ensuring a superior solution.
Learn from experiences to achieve your goals.
– It's been great to see how we have come together and used each other's strengths and knowledge, enabling us to showcase a cutting-edge solution. There is more to a solution than just the physical components. At Interpack, I strongly felt that customers could experience that, says Lina Venjum, Rocketfarm's Head of Channels.
Rocketfarm, Piab, Binder, and Universal Robots showcased the palletizing solution Freyja + Mantis ® at Interpack earlier this year. 
To fully understand the story behind this innovation, we need to look back to 2021. Rocketfarm and Piab collaborated, combining their strengths to provide customers with a market-leading solution. The result was Freyja – demonstrating how to assemble a UR palletizing solution with the best components on the market. It effectively decreased the time needed to find the optimal solution and made it much easier and faster to sell cobot palletizing solutions.
Nils von Essen, Director Product Manager at Piab's Vacuum Automation division, says the collaboration greatly benefits their customer base by combining Rocketfarm and Piab's cobot palletizing industry's expertise in their respective fields. Hence – this partnership came out of customer insights.
– We believe that by enabling multi-picking on both sides – software and gripper technology – safer yet more efficient palletizing systems can be realized, which are important factors in a competitive industry facing labor shortages, he says.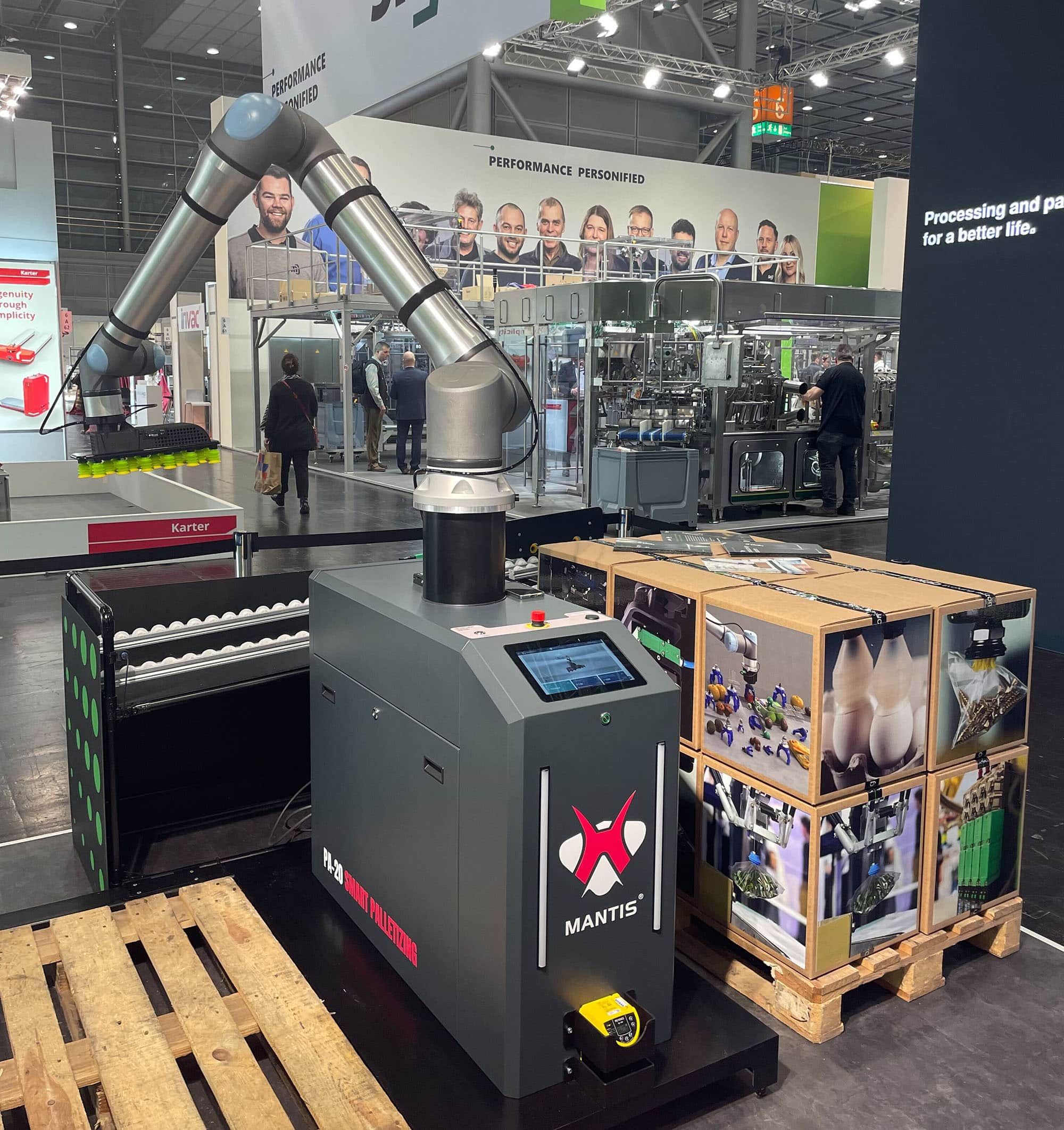 The all-in-one solution
The Spanish company, Binder, was motivated by Freyja and combined their PA-20 frame with advanced technology to create an all-in-one solution named Mantis®.
The solution included the following components, providing expanded capabilities:
The new UR20 base.
Piab's latest CPT gripper.
Rocketfarm's Pally software + digital twin simulations in MyRobot.cloud.
The PA-20 base by Binder.
Mantis® (starting at 70.000 €) is a standardized and profitable option for Binder's clients, with a quick installation process that can be completed in just one day, making it highly efficient and time-saving.
Combining expertise, Binder, Rocketfarm, Piab, and Universal Robots created a solution that offers unmatched performance, scalability, and ease of installation. According to Rocketfarm's Head of Channels, joining forces is powerful, as knowledge and expertise can be offered more efficiently and seamlessly to the market, resulting in a higher value/lower cost and industry-specific solution for customers.
– It also enables us to provide customers with the information they need directly from the source. We improve by sharing knowledge and identifying ways to meet the market's needs by tailoring a solution with all the necessary components, Venjum says.
Provide trust with a real-life experience
To promote the Mantis®, as mentioned earlier, the team went to Interpack this spring. Participating in trade fairs like Interpack provides numerous benefits. As crucial as informing the customers about the team's comprehensive offering, the team gave visitors a holistic experience by showcasing the complete solution.
Venjum says that the possibility of showcasing the complete setup was essential to convince the end customer, as they got feedback emphasizing the advantage of meeting the various companies behind the comprehensive solution.
– Several visitors said that they liked to have the ability to see the complete solution onsite. The conversations on the stand enabled us to address concerns and lead the customer to the next step in their investment track.
Visitors' questions about footprint, safety, and sustainability were quickly addressed through demonstrations by showcasing the sensors surrounding the installation, and information on power consumption was provided in the digital twin simulation onsite.
– Showcasing how we use our tools throughout the journey, from validation to testing, installation, and operations, played a crucial role. We provided good responses, trust, and commitment by doing this, Venjum says.
Read more about MyRobot.cloud here.
Unmatched value and inspiring solutions
Another notable advantage of a trade show like Interpack is to meet other industry professionals.
Venjum believes strengthening relationships with existing and potential new partners is invaluable. Collaborating with the teams from Universal Robots, Piab, and Binder at the booth fostered productive discussions on collectively serving the market better.
– A solution where the various stakeholders are united was also seen as a strength by those attending Interpack.
The team's comprehensive approach, incorporating advanced technology, expertise, and a customer-centric focus, ensured the customers would receive unmatched value. And according to Venjum, many expressed appreciation for witnessing how they could set up similar solutions and understand the utility value of individual components.
Do it yourself
We encourage you to take inspiration from this solution and use it as a reference for quickly and effectively entering the cobot palletizing market with a strong solution.
Wondering how you can enter the cobot palletizing market by using off-the-shelf products? We're here to tell you through this step-by-step guide:
Choose Pally as your added software: Implementing palletizing software can be a game-changer to streamline the palletizing process and improve efficiency. You can assess different hardware components and overall solutions using digital twin simulations, enabling informed decision-making for an outstanding palletizing solution. To delve deeper into this innovative technology, click here.
Choose your components: A well-thought-out and configured palletizing solution must account for various components. The minimum requirements include a robot, a fixed pedestal or lifting column, a gripper, a conveyor, sensors, and a teach pendant is included with the robot. This mix, coupled with palletizing software, creates a complete solution. Read an in-depth article on this subject here.
Set up your solution: With MyRobot.cloud, you are able to design, test, and verify your cobot palletizing solution in a matter of hours – instead of days or weeks. Test it for yourself with a 30-day free trial.
Go-to-market: You're all set to launch your product and introduce it to your customers. Remember, it's crucial that everyone in your company is aligned to ensure a successful market entry and sustained growth. As a part of Rocketfarm's MyRobot.cloud offering, you will receive your own lead generation tool, making connecting with customers easier. With "MyRobot.cloud Fast Track Partner Edition", your customers can easily test and determine feasibility through a 3-step wizard on your website, using your specific solution. Contact us to learn more.
Let's scale sales together: Collaboration is key when it comes to achieving growth and expanding sales. At Rocketfarm, we understand the power of a complete solution, which is best achieved by combining different expertise and resources. Let's come together, aim high, and make a lasting impact in the market.
Broaden the scope of possibilities with unmatched palletizing performance! Join us in shaping the future of automation, and please reach out if you have any questions.
Sign up to our newsletter and get a FREE ebook
By signing up to our monthly newsletter, you'll get case stories, product launches and tips to automate your production line!
Additionally, you will instantly receive an ebook about implementing palletizing. For more information, please visit our newsletter subscription page.