How to navigate the customer journey in palletizing
Optimizing efficiency and streamlining operations is crucial for success in today's competitive business landscape.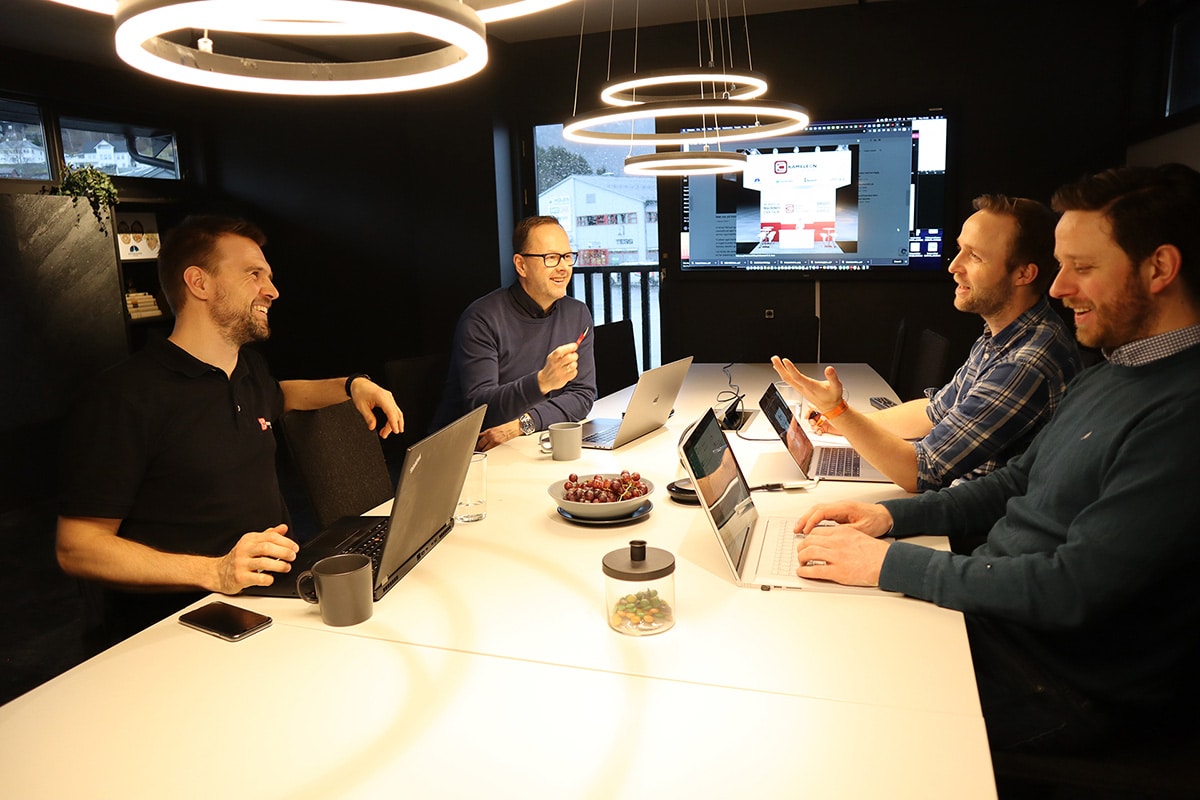 For manufacturers involved in both large- and small-scale production, an end-of-line palletizing system can revolutionize your processes – offering enhanced productivity, reduced labor costs, and improved overall efficiency.
This insightful article will take you through the customer journey of acquiring an end-of-line palletizing system. We have identified five key stages in this journey:
Awareness
Purchase
Installation and training
Operation
Modifications
Understanding the stages involved will empower you with valuable insights and help you make informed decisions. So, let's dive in!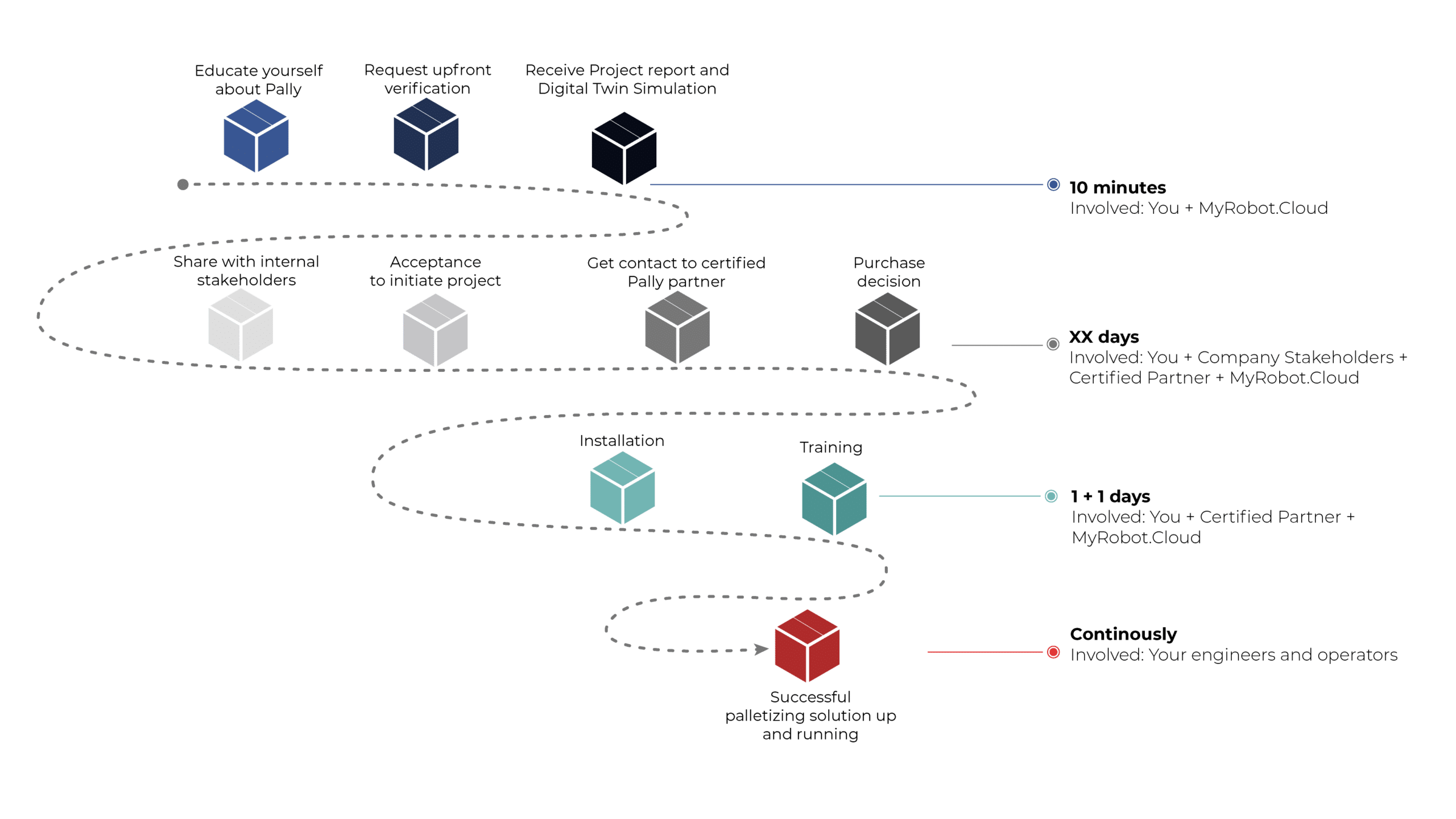 1. Awareness
The journey begins with the awareness stage, where you are introduced to the concept of end-of-line palletizing systems.
You start understanding the benefits of automated palletizing tailored to your specific needs through extensive online research, industry events, trade shows, referrals, or direct marketing efforts. Increased efficiency, cost savings, and productivity gains become apparent, sparking your interest to explore further. This might have led you to this very article looking for answers.
Before we proceed, we want you to be aware of the fact that there are various ways to automate end-of-line palletizing. If you are considering robotic palletizing, you may wonder whether to choose an industrial or collaborative robot. We recommend checking out our article comparing the two options if you are unsure.
Or, even better, try the cobot palletizing search engine to validate if your project can be palletized with a cobot. You will have your answers within the hour, bringing us to the next stage.
2. Purchase
If you recognize the potential of a cobot palletizing system, you should move on to the purchase stage.
This phase involves diligent research and evaluating different solution providers and manufacturers to find the ideal system for your requirements and budget. But requesting product demonstrations, reviewing technical specifications, comparing prices, seeking recommendations, and gathering quotes from multiple vendors is a lot of work.
Rocketfarm can provide you with a head start by connecting you with solution providers who offer palletizing solutions to meet your project requirements. With the use of MyRobot.cloud Fast Track, you will receive an upfront project validation and explore a range of available hardware and solution providers in your region.
The best part is that you'll have all the info you need to move forward with your chosen solution provider. And once you reach that point, you have to negotiate the purchase terms to ensure that the system is in line with your long-term objectives.
3. Installation and training
Once the purchase is finalized, the chosen solution provider will proceed to install the palletizing system.
Using MyRobot.cloud, you'll have the ability to program and verify every pattern before you start the installation process. And with Pally's no-code installation, the installation is easy and can be completed in just 1 day. Training is typically also completed within 1 day. Compared to other cobot palletizing opinions, Installing, calibrating, and programming Pally is much simpler.
In this phase, the collaboration between you and the system integrator, installation technicians, or engineers is crucial. Be sure to provide them with accurate site information, such as floor plans, electrical requirements, and infrastructure details.
The solution provider will then configure and install the end-of-line palletizing system to seamlessly integrate it into your production line. The installation involves assembling mechanical components, establishing electrical connections, programming the system, and conducting tests to ensure optimal functionality and performance.
4. Operation
Now that your end-of-line palletizing system has been successfully installed, you have reached the operational phase.
Now, the solution provider will provide thorough training to your operators and production personnel. This training covers system controls, operation procedures, routine maintenance tasks, and safety protocols. Equipped with this knowledge, your team will proficiently run the system, monitor its performance, and address any operational challenges.
This is where Pally shines – as it does not demand any coding expertise and is extremely easy to use. In addition, several safety features are built into it, ensuring your colleague's safety.
5. Modifications
As businesses evolve, customers may realize the need for modifications or improvements to the cobot palletizing system. These modifications can be driven by various factors, such as modifications in production requirements, changes in product dimensions or types, or evolving industry standards.
Read our article about how Pally increased palletizing performance by 30 percent at Nortura.
The cobot palletizers are the robots we have with the highest operating time and lowest running costs. We have been very happy about our first installations and are very excited that Rocketfarm could help us improve the robots for us to take the next steps in improving our production line.
Inghild Lysne Sanden
Factory Manager, Nortura Sogndal
In the modifications stage, the customer collaborates with the system integrator to discuss and implement necessary adjustments. This may involve software updates, hardware modifications, or reconfiguration of the system to accommodate changing needs.
The solution provider will offer guidance, recommendations, and technical support to ensure seamless integration of modifications while optimizing system performance.
Although it may seem like a complex process, it runs smoothly with the assistance of MyRobot.cloud, Rocketfarm's cloud-based robot management platform. Here, you can effortlessly upload digital twins of your palletizer with all the exact settings, and test performance/possibilities upfront before implementing them in the physical production.
Unlock your potential with Rocketfarm
By now, you have learned that the process of acquiring a cobot palletizing system involves a thorough journey – and that effective communication and collaboration between the customer and the system integrator are crucial at every step of it.
Our goal is to enhance and simplify this process for you. Because consistent feedback, support, and maintenance services from the system integrator are crucial to guarantee a smooth experience at every stage.
By embracing automated palletizing, you can unlock the potential for enhanced efficiency, cost savings, and improved productivity in your production processes, setting the stage for continued growth and success.
Feel free to reach out to our Sales Team if you want us to help you take your business to the next level, or to schedule a demo of palletizing.