From Concept to Reality:
How ALCA Technologies S.r.l Created a standardized cobot palletizing solution in Only a few weeks
As a System Integrator or automation company, incorporating cobot palletizing into your business can be highly profitable. ALCA Technologies S.r.l serves as an excellent model, as they are positioning themselves to become UR Palletizing Solution providers and rapidly expand their palletizing sales.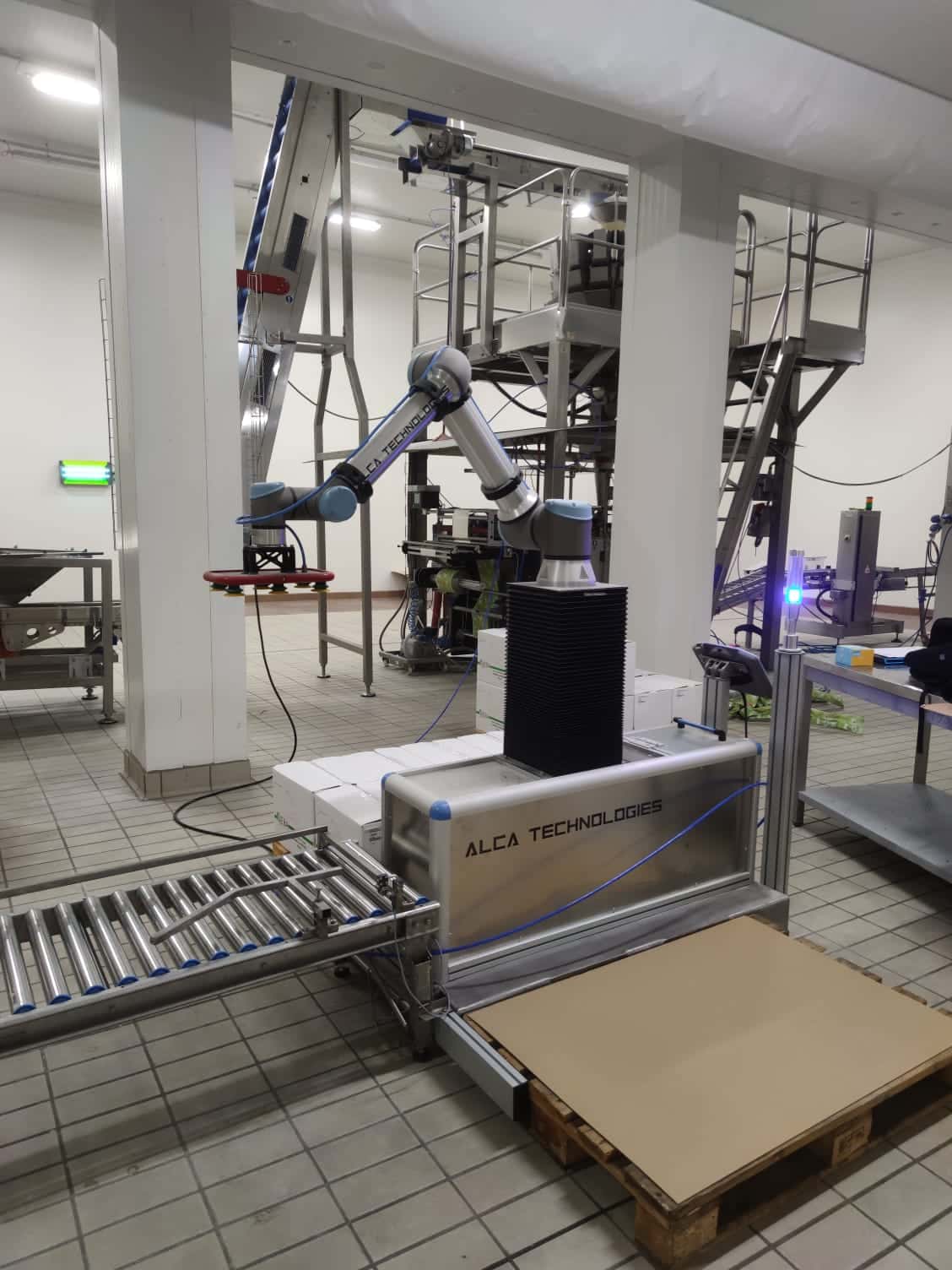 There is no doubt that palletizing is one of the most obvious applications for cobots. It's heavy. It's dull. It's repetitive and usually a job that is very hard to recruit for. In other words – cobot palletizing represents a great opportunity for system integrators and automation companies.
In this case story, we would like to share the story of how ALCA Technologies S.r.l developed a standardized cobot palletizing solution in just a few weeks. They achieved this by choosing Pally as their software and creating a solution from off-the-shelf hardware that works seamlessly together because of Pally.
In 2022, ALCA Technologies S.r.l successfully installed 4 cobot palletizers. However, they encountered several challenges that they wanted to overcome for a standardized solution. This included:
The time-consuming task of programming all of the patterns requested by customers.
The difficulty for customers to gain full control of the robot, even after days of training.
The significant amount of time spent reaching the required CPM.
Several factors led us to choose Pally as the software for ALCA Palletizers. For years we have seen how the software enables easy installation and is very reliable. Pally also enables us to eliminate time consuming programming of all the patterns requested by the customer.
Alessio Carignola
Owner, ALCA Technologies S.r.l.
So, let's look at how they started a collaboration with Rocketfarm at the beginning of May and rapidly presented a fully functional Universal Robots Palletizing Solution at the SpS Trade Show by the end of the same month.
Showcasing in weeks with the help of Pally
Alca Technologies had a challenging task before them as they had to showcase their palletizing solution at the upcoming SpS trade show within a few weeks. Using Pally as their software made the calibration process easy and allowed for compatibility with various hardware brands.
With the help of Pally, Alca Technologies was able to successfully showcase their ALCA Palletizer – a standard palletizing solution – at the Linak booth during the trade show.
Learn more about the Alca Palletizer here
Hardware choices
To simplify and ensure the best possible solution for their customers, ALCA Technologies opted for mostly off-the-shelf components to simplify the process.
Frame: ALCA's own frame has been developed specifically for palletization but can also serve other purposes. It is compatible with UR's standard protocol box and an electrical box if needed.
Optional options for the frame are AMR (MiR) loading bays, the interlayer magazine, 2 meters of conveyor belt or rollers with the possibility to get the size and weight of the boxes, barcode/data matrix reader, etc.
End of arm tool (EOAT): Schmalz Gripper is the standard choice. If it fails to meet customers' requirements, ALCA Technologies will develop its own End of arm tool. These tools are typically made of carbon fiber to increase the payload capacity.
Lifting column: Linak ELEVATE, the new lifting column from a well-known actuator producer. It has a very long, strong stroke and fast speed. It is essential that it works seamlessly with the software (which it does due to having its own URCap and being natively integrated in Pally) because this is what customers expect.
The tool boasts a lengthy and powerful stroke combined with impressive speed. Its effective integration with the software, thanks to its own URCap and native integration in Pally, meets customers' expectations.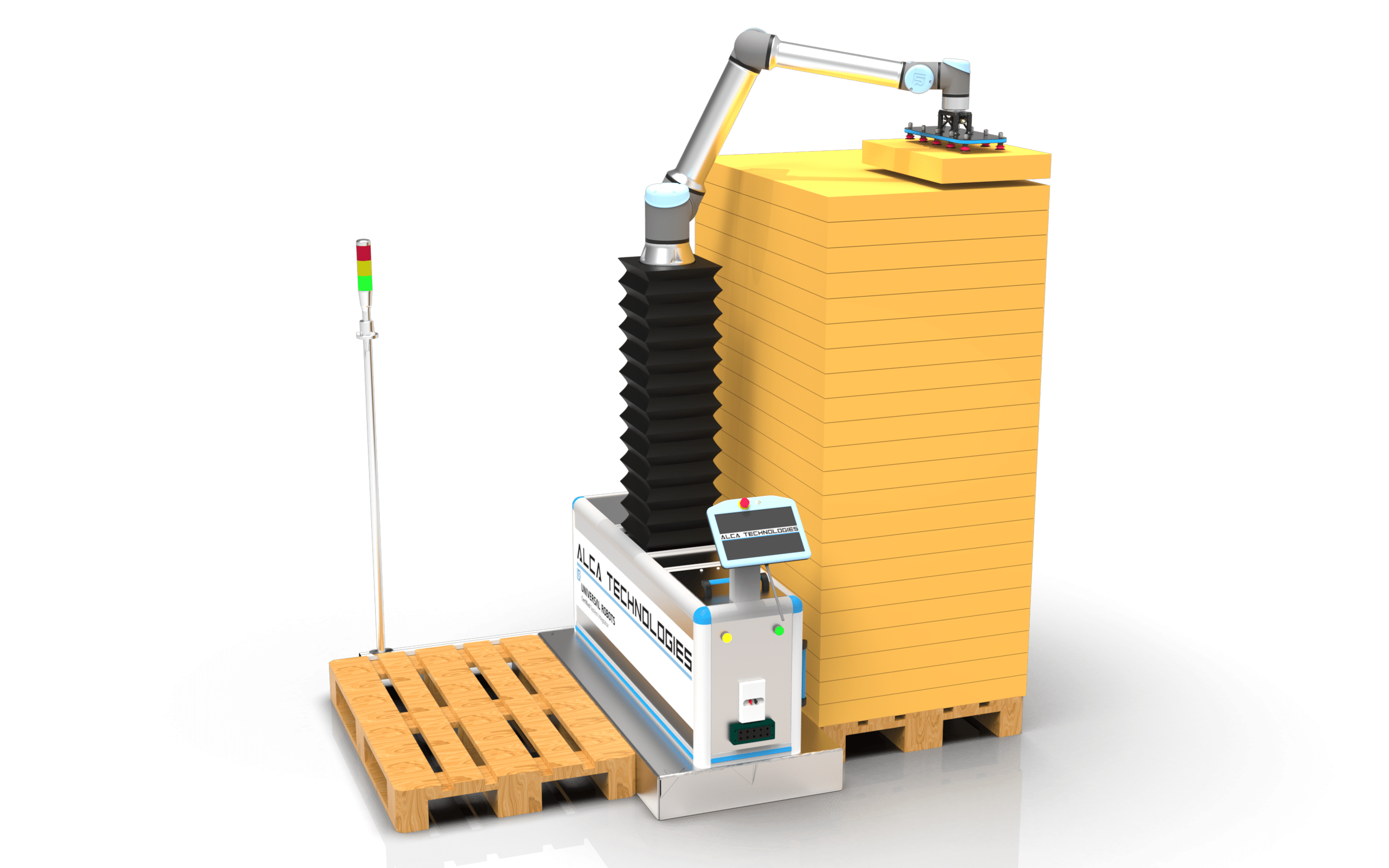 Putting together a palletizing solution
Venturing into the cobot palletizing market (or any other cobot application market), the importance of standardizing your solution cannot be underestimated. As the cobot continues to advance, the focus will be on complete solutions, leaving little room for customized projects.
In the future, automation will be sold as products (solutions) and not projects.

Egil Mundal, CEO, Rocketfarm
By having a standardized solution, you can also benefit from state-of-the-art digital twin technology to verify, engineer, and support your projects without the need for physical component assembly.
Learn how you can benefit from digital twin technology in cobot palletizing
Benefits with off-the-shelf components
When choosing components for your standardized solution, the same applies.
For some customers, it might be necessary with a custom end-of-arm tool (EOAT). For the majority, their requirements will be met by already existing EOATs available in the market as off-the-shelf components. This is particularly true when combined with smart software that can effectively use the full potential of the EOATs.
Opting for pre-existing hardware and software has numerous benefits.
You gain access to products from top players in their respective fields, that have undergone extensive market testing and that are supported by reliable suppliers who deliver quickly. Overall, this enables you to launch your product faster, with the benefits of a custom solution while maintaining the pace of a turnkey solution.
By using the Pally software we could choose the best palletizing components on the market and trust that it's all perfectly linked together. As we want to scale sales, the speed of commisioning with Pally and MyRobot.cloud is a huge benefit for our sales team. They can focus on the customer, knowing that the software will handle the palletizing.

Alessio Carignola, Owner, ALCA Technologies S.r.l.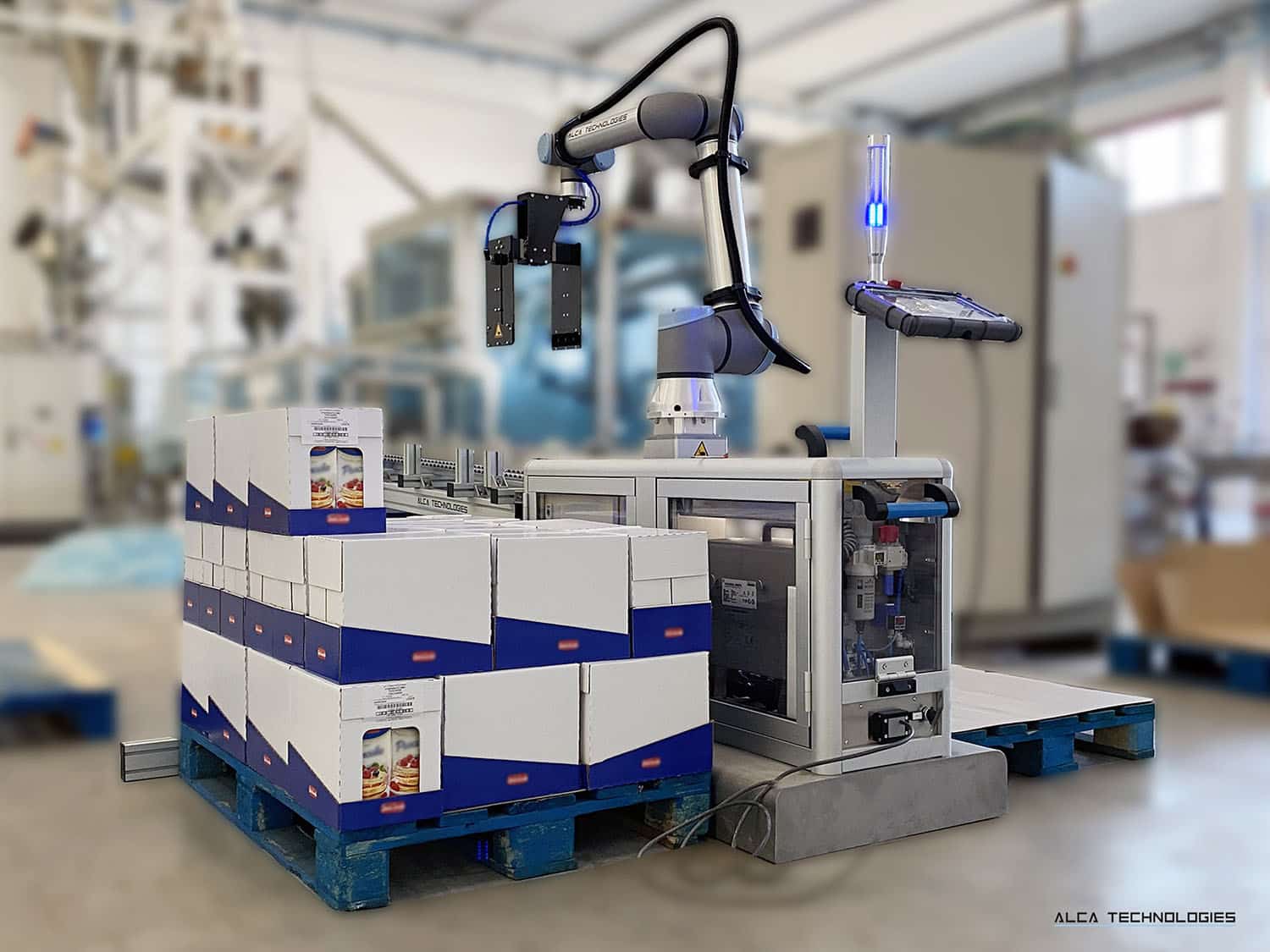 Go-to-market faster (and better)
If you wish to enter the cobot palletizing market quickly and with a competitive solution, the future will be off-the-shelf components and standardized solutions.
Take advantage of the knowledge and expertise of other companies to expedite your entry into the cobot palletizing market while saving on RnD. By doing so, you can benefit from their experience and make swift progress.
At Rocketfarm, we have hundreds of palletizing solutions palletizing every day. We take great pride in our customer retention rate, as we have never lost a single one. On the contrary, we experience the joy of customers who have switched to Pally.
Alca Technologies is a great example of how you can enter the market of cobot palletizing. They have a deep knowledge of automation with Universal Robots and had experienced that palletizing is time-consuming. To increase their sales, they saw they needed to standardize their solution. Which they did, in just a few weeks.
Martin Schøber
Head of Customer Success, Rocketfarm
Sign up to our newsletter and get a FREE ebook
By signing up to our monthly newsletter, you'll get case stories, product launches and tips to automate your production line!
Additionally, you will instantly receive an ebook about implementing palletizing. For more information, please visit our newsletter subscription page.